By Jamie Joseph
"Nyakio proudly sources globally sustainable ingredients through Community Commerce to support women's employment and empowerment for a better living."

Sweet Almond Cleansing Oil Balm
When I first opened up the Nyakio (Neh-Kay-Oh) Sweet Almond Cleansing Oil Balm, it felt like Christmas. The packaging is a beautiful royal blue with intricate details about the product by the creator herself, Nyakio Kamoche Grieco. On the inside of the packaging box, Nyakio's inspiration for the product is revealed:
"As a young girl, I spent a lot of time in Africa with my family of medicine men, farmers and educators. My favorite memory is of my grandmother teaching my mother and me to crush coffee beans and rub them on our skin using a piece of sugarcane to remove dry skin. I discovered that memories like these are shared by women around the world. Cultivated global beauty secrets and traditions are brought to you through friends, family and travel for naturally ageless beauty."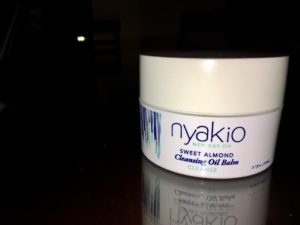 And that is exactly what Nyakio achieved–a new, natural way to achieve ageless beauty. The first thing I noticed when I first opened the oil cleansing balm was how sweet it smelled. The balm is perfect for anyone who struggles with seasons of dry, brittle skin that needs a vibrant repair. If you are prone to breaking out from oily products, it is best to start with a very small pinch in your palm. Rub the oil together in your hands until it warms, and then gently spread across your face. It is best to rub the oil into your skin for 10-15 seconds, and then let it sit for about 20 minutes before washing it off. The balm is smooth and a bit of a heavier oil–so even when you rinse with water, you will still feel the moisture on your skin! It is truly a life-saver for anyone (like me!) who struggles with dry skin when the weather changes. The cleansing oil balm (along with all of Nyakio's skin care products) is made without sulfates, phthalates, parabens, mineral oil, petrolatum, formaldehyde and butylene glycol–however, it is made hand made with cold pressed, multi-functional oils sourced from secret natural ingredients! Not to mention, Sweet Almond Oil is one of Spain's most prized resources used by generations of Mediterranean women for "its light texture and ability to gently cleanse skin."
Kenyan Coffee Lip Polish
If you struggle with lip peeling or browning, this Kenyan Coffee Lip Polish exfoliator will surely aid in getting rid of the dry skin clouding those luscious lips! This gentle lip polish is coated in gentle, finely ground Kenyan Coffee beans and sugar. This mixture leaves the lips feeling soft after rubbing a finger amount across them. After exfoliating for about a minute, you can either wash it off or for extra moisture, dab remaining exfoliating beads with a towel or napkin. This lip polish definitely helps my lips stay moisturized, so I don't have to keep reapplying chapstick all day long. This is pretty impressive considering how attached I am to my chapsticks!
Quinoa Depuffing & Firming Eye Cream
The Quinoa Depuffing & Firming Eye Cream  is the definition of magical! Although underneath my eyes don't swell, I made sure to test this product on someone with a bad case of puffing who was very enthusiastic to be my guinea pig–my boyfriend.
After squeezing a pinch of this moisturizing depuffing cream on the areas of swelling under his eyes with the tube's applicator, I rubbed it gently for about 10-15 seconds on each eye until all of the cream was completely saturated into his skin. He described the cream as having a cooling sensation, and 10 minutes later, the swelling went down significantly! The cream's ingredients originate from Peru. Quinoa, as described on Nyakio's packaging, is seen as a "Food of the Gods" in Peru for its numerous nutritional benefits. I would definitely recommend this product for anyone who is looking for a solution to puffing or swelling underneath the eyes.