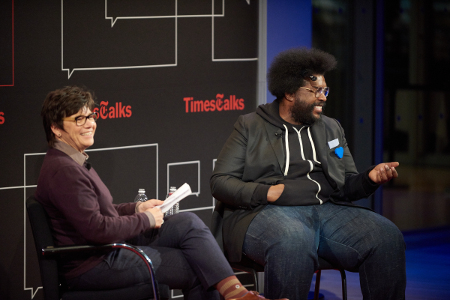 It's rare that you get to witness an event or happening that you know in years to come you will be able to say, "I was there." This was the case last night on Tuesday as the New York Times held a Times Talk with bestselling author, drummer, leader of the band The Roots and director of music for "The
Tonight
Show Starring Jimmy Fallon,"
Questlove
(Ahmir Khalib Thompson).
The intimate talk, moderated by New York Times reporter Kim Severson, was about the hip hop legend and icon's new book "
somethingtofoodabout
." As Questlove talked about his passion for food and the amazing journey that passion has taken him over the years, you realize that passion provokes change. Keeping with the tradition of what the Roots have accomplished, Questlove is continuing with food. What is that tradition? Provoke thought and change! It starts with one person, one event, one conversation at a time.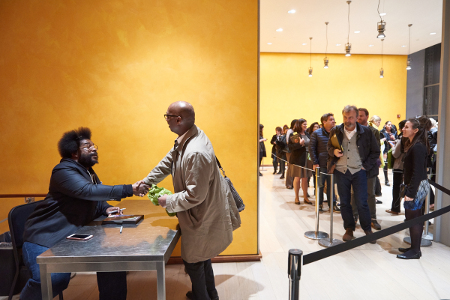 The highlight of the night was when I had the opportunity to ask Questlove, "They say every culture has its own food, in your opinion, what is the food of the hip hop culture?"
If you want to know the answer, you can watch the recap of the Times Talk broadcast below. When you listen you learn. Enjoy learning from one of the masters himself with a candidacy only he can deliver.
Peace!
Amelia " ameliaismore" Moore