By Jennifer Akotoh
Hey Bronze Beauties! I'm back with another interview from a bomb bronze entrepreneur. Meet Latrice Love, the founder and creator of Liplove, a cruelty free- all natural lip product line. I had the pleasure of trying out two of Latrice's products, Glory and Royal and I must say, the subtle iridescence and nourishing formula of her jewel-toned shades looked so bomb on me. I am hooked! Check out my conversation with Latrice below.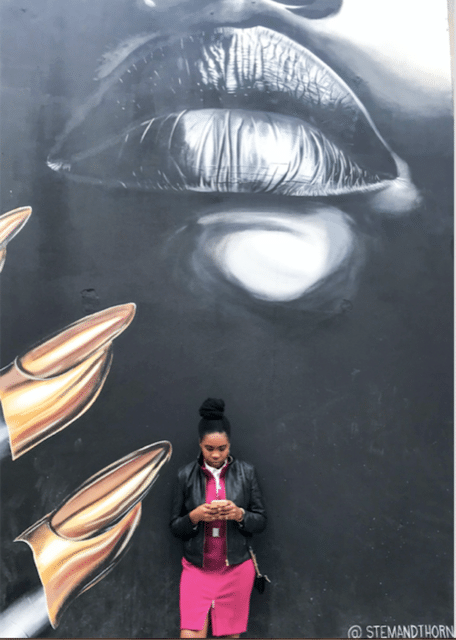 Tell us about yourself. What did you do before starting your own makeup brand?
In retrospect, both my academic and professional journeys led me to Liplove! While attending the University of Houston, I worked and interned for fashion and beauty startups, which really sparked my interest in becoming an entrepreneur, as I often worked alongside the founders. My internship for Kelly Quan New York was my first introduction to cruelty free, vegan beauty, and it taught me so much about launching a product. I launched my first business doing marketing and consulting for creative startups while attending Wade College, a private arts college in Dallas. After graduating from Wade, I received a job offer at a small marketing agency for an entry-level digital marketing role. Within 2 years, I was a Senior Manager, and by year 3 a Director. After that, I completed the executive development program, was leading our consumer division (which included everything from hiring, training and mentoring, to account management and even new business proposals), and was on my way to becoming the President of the company, but something was still missing. It was a very rewarding career, and I learned a lot! It ultimately led me to launching Liplove (more on that in question 3!)
How old were you when you first started wearing makeup? What was that experience like?
My first exposure to makeup was high school, as I was a cheerleader, and I was allowed to wear it for performances and competition, which was always fun! I didn't wear it on an everyday basis, and mostly would wear a light gloss on my lips. In college, I explored more with makeup, then after starting my career in corporate, I never went a day without a lip!
Why did you start a natural beauty line?
I started a natural beauty line after finding out about the toxins found in lipsticks and glosses. What originally started out as research for the consumer division (which I was leading at the time), ended up with me on Business of Fashion reading an article about clean beauty, which led me down a path of learning about the toxic, hormone disrupting ingredients found in beauty products. I just remember thinking: I wear lipstick every day, just like women everywhere. I have to do something. That was the start of a 2 year process that would include lots of research, consulting with key advisors and experts, and, most importantly praying about when, how and what product to create.
What makes your products stand out from all the other lip products on the market?
Liplove is in its own category. I often say it's not lipstick or lip gloss because it doesn't have the consistency or texture of either, and it is formulated to benefit the lips beyond wear. Because it is oil based, it goes on very smooth and silky, and settles into the lips, causing them to maintain their moisture and hydration. It doesn't flake or cause the lips to peel or dry out, and it definitely isn't sticky or thick like lip gloss!
How did you come up with the name LipLove?
The name Liplove was really born from the fact that this product is another way for you to love on yourself (and your lips) since it looks good on you and is good for you. I'm really big on self-care, and I wanted the name to reflect that. Plus, my faith is centered on love, which is also central to the brand identity.
LipLove comes in many different jewel-like tones. What's the inspiration behind the unique pigments of your lip products?
I find inspiration everywhere! The Spring collection was created to remind women of their status as royalty, and to promote love & acceptance among women of all backgrounds. So, the color palette ranges from nudes to statement colors to the unexpected shade of mauve that really looks good on every complexion! I'm also very inspired by customers' feedback, nature, art, fashion – and the list goes on! Because I went to an arts school, but also have the traditional university and business background, I tend to lean on my creative roots during product development, then back it up with the strategy and logic of the business side of my brain, which has proven to be a good combination!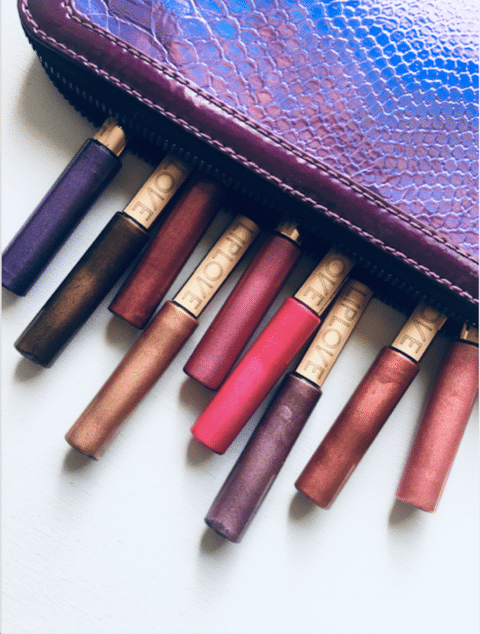 What is your favorite color from your line and why?
My favorite color from all collections has to be Basic. It really is a great everyday color that can be dressed up for date night or down for running errands. I even wear it working out to keep my lips hydrated (even though I don't wear any other makeup working out). As far as the recently launched Spring collection goes, I love Glam, which is a subtle shade of mauve purple that really looks good on everyone. It is so unexpected and subtle enough to wear with anything.
If there was one thing you could change about the beauty industry what would it be?
First off, I love how brands are making more of an effort to be inclusive and representative of all women in their product development and marketing. However, I do not see that as much among clean beauty brands, which I am on a mission to change with Liplove! Education is also a big one for me, especially in communities of color. The fact that a large majority of beauty products contain toxins and harmful, hormone disrupting chemicals, and minority women are diagnosed with chronic conditions (including cancer) at a higher rate is alarming. Is there a direct link between the two? Possibly. If you think about the fact that the skin is the largest organ, and it only takes 26 seconds for a product to absorb into our bloodstream, it makes you wonder. And this extends beyond makeup to all sorts of products that we use over and over every day for years and years. That is a real issue to me. How is it legal to include ingredients like formaldehyde in a product? Or even parabens, which are often used as preservatives, even though they are known to disrupt hormone function, an effect that is linked to an increased risk of breast cancer and even reproductive toxicity.
What three pieces of advice would you give to anyone looking to start his or her own makeup line?
Know your why. This will keep you going on even the hardest, most challenging days.
Do your research, especially for product development.
Know the competition and major players, but don't let what they are doing make you feel less than or cause you to doubt why your product needs to exist. Indie beauty brands have an advantage, so don't let anything deter you!
What can fans of LipLove expect in the upcoming launch of the February line?
The Spring collection will be one of the largest, with 7 colors total! This really has something for everyone. I'm also working on some exciting projects for Summer and Fall, including a multipurpose product that can be used on lips, cheeks and more, as well as a collection for little girls and teens!
Do you see yourself expanding the line to include other makeup products?
Yes! Liplove is definitely just the beginning. The goal is to have a full cosmetics line, and I plan to venture into other natural haircare and body products in the future.
If you were headed to a social event and could only take three makeup products with you, what would they be and why?
Basic Liplove, Glam Liplove (from the new Spring collection) and my mineral powder!
Check out LipLove at shopliplove.com