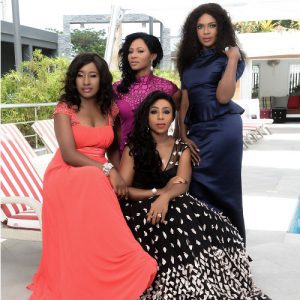 New Nollywood (Nigeria's version of Hollywood) drama "Fifty" offers a fresh perspective of the aspirations and everyday dilemmas faced by African women, while attempting to navigate their way through unresolved traditions and obligations. The movie comes from the stable of EbonyLife Films and EbonyLife TV (Africa's premiere entertainment and lifestyle network).
The project is helmed by acclaimed writer and director Biyi Bandele ("Half a Yellow Sun") and executively produced by EbonyLife TV CEO Mo Abudu. "Fifty" follows the complex lives of four middle-aged Nigerian women at the height of their careers. Elizabeth (Ireti Doyle), Tola (Dakore Egbuson-Akande), Maria (Omoni Oboli), and Kate (Nse Ikpe-Etim) are forced at mid-life to evaluate their personal lives, while juggling careers and family against the sprawling backdrops of the upper middle-class neighborhoods of Ikoyi and Victoria Island in Lagos, Nigeria.
Tola is a reality TV starlet with a scandalous family secret that threatens her marriage to her attorney husband. Elizabeth is a celebrated gynecologist whose preference for younger men has estranged her from her daughter. Construction company executive Maria has an affair with a married man that results in an unplanned pregnancy, and event planner Kate's battle with breast cancer has plunged her into religious obsession.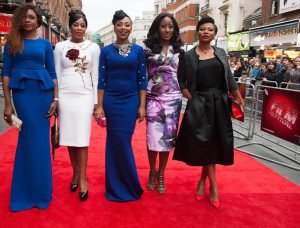 "Fifty started as a story idea based on my life," Abudu stated. "I thought it would be interesting to look at different scenarios women at 50 could face. Imagine that you're 50 and you're pregnant for the first time. Or at 50, you realize you're in a relationship or marriage that you no longer want to be in."
There are themes of love, loss, greed, intrigue, betrayal, rivalry, even religion—all perfect ingredients for a meaningful story. If that isn't enough, there are also musical offerings and cameos from Afrobeat superstar Femi Kuti, world music titan King Sunny Ade, pop icon Tiwa Savage, German-Nigerian music prodigy Nneka and ebullient artist Waje.
Much like Hollywood powerhouse Shonda Rhimes, Abudu's ultimate goal is to give an accurate portrayal of the multidimensional realities of African women. "The themes of the movie are universal, but we also tackle important issues in terms of gender, culture and relationships," she says.
"Fifty" made its festival debut in London on October 17, at the renowned 59th annual BFI London Film Festival, and had its grand world premiere in Lagos on December 13. It became available for streaming on Netflix five days after Christmas, to 65 million members in more than 50 countries. "Fifty" was the only Nigerian film selected by the BFI London Film Festival committee, as well as one of only five films selected from the entire continent of Africa from the 238 films hand-picked worldwide for screening. The extravagant red carpet affair is now considered to be the biggest film premiere in the history of Nigerian cinema. The film enjoyed record-breaking openings in theaters across Nigeria when it was first released to the general public back in early December.
Watch the official movie trailer here: https://www.youtube.com/watch?v=65AUN3b2umA
By Farren Washington