By Jade Solomon
Self proclaimed "Self Care Queen" Nikita Gibson is an entrepreneur, wife, and mother who built her business empire at the age of twenty five. After losing her mother to breast cancer, Nikita channeled all of her efforts into founding  Joire's Spa, a space for her community, and other women of color, to indulge in and prioritize luxury self care; most importantly, dispelling the myth of its unattainability.
Today, Joire's Spa not only offers services like laser skin resurfacing, chemical peels and laser hair removals, but features its own organic skincare line, Joire's Skin, and has expanded into everyday, holistic products with Joire's Home.
One of the major motivations for you in opening Joire's spa was providing a space that catered specifically to people of color's skin and wellness. How did you notice this need that's often overlooked by the beauty industry, and even our own community?
I feel that in our community self care is not something that people typically do as often as any other race. For the most part it's because we don't have the time. But I feel like my direction into doing this is showing people that you do have time, and the importance of making time; because when you are your best self, you're able to give your best self. Once people see how acceptable it is, then realize how easy it is, they will want to make it a part of their routine.
I love everything about taking care of myself. I love doing these things for myself at home, but it felt even better going out to get it done. And I learned that it's not very expensive to do once you prioritize and plan out your routine.
What made you decide that Brooklyn, NY was the best place for you to open your spa?
Because I was born and raised in Brooklyn, I knew it was something that I wanted to do to cater to my community first. Being raised in this community, I've noticed that you don't see places that cater to women of color that have great customer service. There's a lot of places you can go and get a service done but it's kind of just a transactional business. Intention is important to us at Joire's spa. Our customer service is important to us. Some people are coming to us to release and relax, so it's about finding those people that enjoy these services and love using this time as their wind down time and creating a space where they feel truly valued. Because that takes the business to another level.
Of course, Joire's Spa focuses on beauty enhancement and providing an experience of relaxation to your clients, but your spa's mission also encompasses promoting and instilling a message of self love and acceptance. What services or practices do you use to address these needs with your clients?
Every person that comes in and gets a facial is told an affirmation at the end of their service. Just through conversations you're able to tell that some people need words of encouragement. Outside of that, the one thing that is utilized in self-reflection and awareness is the sauna. Most people are typically naked in this space and being that they're alone they only have time to think. They can  read my book, or they can meditate.
That is a moment where people are looking at themselves and taking the time for self-care. If you take the time to look at your body and love on your body, you begin to appreciate it more. Some people are so quick to criticize their bodies, but… if people took the time to reflect on their bodies, they would be so much happier and more willing to learn more by asking themselves, 'What do I like about my body? What don't I like about it? And do I just not like it because of what I see on social media?'
It literally starts with self care. But it takes one day at a time, and I love that on my platform I get to share who I am and encourage people to love on themselves.
Holistic wellness is also another major focus of your spa. I find this very unique because your brand focuses on what your clientele is consuming, not just the external. With that said you have your Immunitea Line. what are the benefits of your tea and what made you want to incorporate teas specifically into your product line?
I am a lover of tea and was making my own at home to boost my immunity. Everyone saw me doing it and started asking for the recipe, so I shared it with them. But no one had the time to make their own so that's why I created it. I started doing my research, found a tea manufacturer and sent him my ingredients. He returned four samples to me. We went through about four different manufacturers. I had a lot of my aunts and older people in my family test the tea, and we decided on Immunitea. When you taste it you can literally feel it. All the ingredients are boosts, in that they boost your immunity. And it's something that can be drank hot or cold.
Joire's spa offers a plethora of amazing and unique skincare products from the Deep Clean Microfoliant Oatmeal Scrub to the Tightening Lemongrass Toner to the Smoothing Sugarcane Exfoliant. If you could only recommend one product to a first-time customer, which one would it be and why?
If I had to pick one product for someone new to skincare it would absolutely be the Green Tea Cleanser. Cleansing is the most important step. If you have a good cleanser, you are sure going to feel refreshed, and with the Green Tea Cleanser you're going to feel like you're on a tropical island; and there's no fragrance. Additionally, if I had to pick one product good for anyone it would be the Sonic Cleanser which is so gentle. In our daily routines we tend to rush and do things but it's very important to take your time. Take that 60 seconds and wash your face. Taking that extra time makes a huge difference.
When the pandemic ensued, you took it a step further and created the Joire's Signature Collector's Self Care Box which includes products from the Immunitea line, the luxury spa robe and head towel, the signature spa candle, Turmeric mask and Gua Sha set, Eucalyptus Bunch and tea mug. How did you know that this was the best way to pivot during the pandemic? And what were you hoping to provide to your clientele during this time?
Joire's Signature Collector's Box was my way of saying "I'm going to bring Joire's to your home. I know you miss us and that moment of tranquility. So, I'm going to give you a box that's going to be a replica of the spa, and you can unwind at home." With everyone working from home, they don't get to go out. We needed to do that to create that self-care experience, especially for people who weren't able to return in any capacity to their jobs or leave their houses.
The Signature Collector's Self Care box will be re-released just ahead of Mother's Day. And customers that purchase the box also receive exclusive and early access to upcoming products. With a product line that encompasses so much, and a plethora of spa services that are of great value, what is next for Joire's Spa?
I really want to franchise my business, and I know there is so much more that's happening next, but that is definitely a goal. We're currently focusing on Mother's Day and the preparation of the new facial oils that are coming out. Of course, it's going to be organic, and is launching in time for Mother's Day. We are also working on loungewear for Joire's Spa for the fall.
According to the Small Business Association, about half of small businesses are able to survive the first five years. Joire Spa has been in business approaching 7 years. What has been the most fulfilling moment of your journey?
Although Joire's has been in business for seven years, it has actually been revamped. We've been going on three years at this location in Brooklyn so it's still a baby. This was like a brand-new beginning for me. One of the most fulfilling moments for me was being able to pay my staff when we were closed. Especially being young, and black owned. And to be a young black business that was able to sustain, and to have all the staff that left, return; because they didn't have to.
For me to sustain my staff is very important. There's no me if there's no them. We all have to be well and have to be happy to keep the business going. It was a blessing for me to say that they're here, they're back and ready to work.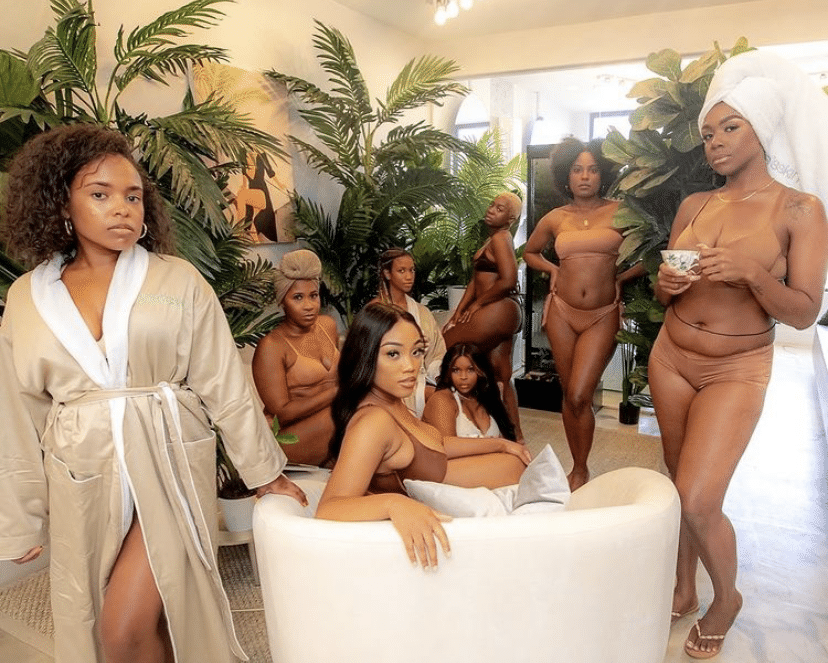 To schedule a service with Joire's Spa, go to www.joiresspastudio.com, where you can also purchase the Signature Collector's Self Care Box, explore Joire's Skin care line and Joire's Home products.