By Nicollette Samuels
Spring has finally sprung which means the tree leaves, plants, and little critters are being revived by mother nature, but nature is not the only thing in need of a revival. Your hair is screaming for a fresh and healthy new look just in time for spring and Dove has got you covered.
The beauty brand is introducing some new additions to their Amplified Textures lineup to help give hair a boost and restore it to its natural glory from the harsh, dry winter. I have tested two of the new products and have provided my honest opinions below. Some hair background on me: I have fine, type 4 (a mix between 4a and 4b), low porosity hair.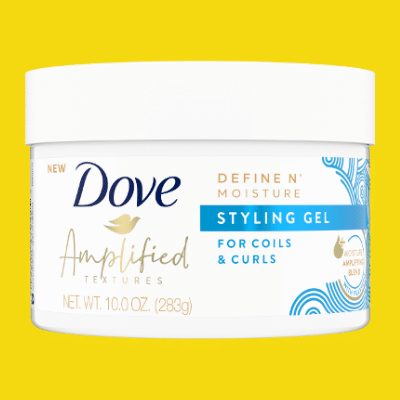 A lightweight styling gel that gives curls and coils the nourishing definition they deserve. This product claims to give hair long lasting hold without flaking; helps to retain length for shiny, healthy-looking hair; and moisturize the hair while reducing frizz.
The gel has a thin, watery texture and a strong clean scent. It is not sticky like most gels and is pleasant to work with.
To test this product, I used it on two different styles, a twist out and a wash and go.
I started my twist out on stretched, blow dried hair. I misted my hands with water and rubbed that into my sections to prevent direct contact with water so that my hair would not revert while rehydrating. Then I added a small dab of creamy leave in conditioner to moisturize and then added the gel. I repeated this process until I finished twisting the sections all over my head. The twists were left in for about a week and then unraveled gently.
Upon unraveling the twists my hair was noticeably defined. However, it was also noticeably shrunken, since the gel is heavily water based. Because of this I would not recommend using this product on stretched hair. The gel has a decent hold and did not cause any major flaking. It also worked well in combination with other products like my leave in conditioner.
To try this gel on a wash and go, I started off with freshly washed hair, then I applied my leave in conditioner and curl defining cream. Lastly, I thoroughly applied the gel from root to tips, making sure to focus on the roots while raking my hair through my fingers to define each curl. I let it air dry until it was 80% dry, then went in with a blow dryer and a diffuser attachment to guarantee the hair was fully dry without disrupting the curls.
To my surprise the gel held up well and kept my curls well defined. While it was not soft to the touch, it was not hard or crunchy either. It had a bit of frizz, but it was not horrible, and it did not flake. As I mentioned above, the gel is very watery, so it did not help to elongate my curls, it did the opposite and shrunk them, but that didn't bother me much.
The product also claims that it works well to slick down edges, so naturally I was inclined to test it on my type 4 hair edges. As soon as I applied it my hair curled and poofed right back up. The gel doesn't have enough hold and is very watery, making it not a suitable candidate to hold down edges. I would recommend something waxier like an edge control to do the job.
Overall, the gel works well and it's an affordable option for the natural hair beginner and product junkie.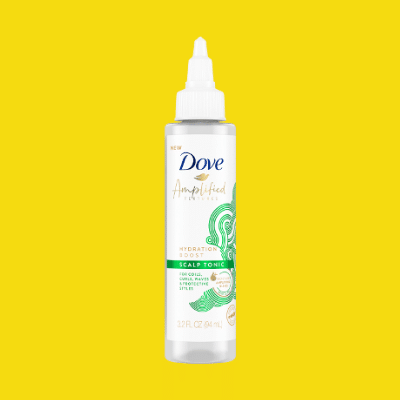 A soothing scalp tonic that helps to reduce scalp dryness and nourishes curls, coils, and waves. This scalp tonic is hydrating and restores moisture to maintain a healthy scalp. It is infused with aloe for a soothing sensation on the scalp and formulated with Dove's Moisture Amplifying Blend. Perfect for protective styles, coils, curls and waves.
The tonic is a liquid product that comes in an applicator bottle for effortless access to the scalp. It does have a strong and pleasant scent that is reminiscent of a perfume or cologne.
I tried the scalp tonic on dry hair, parting my hair and applying it directly to the scalp. I initially felt a soothing sensation on the scalp, and it helped with its dryness and itchiness. The only downside to the product was the amount of buildup it caused. Unlike a hair oil, it does not seem to penetrate but it leaves a film that is noticeable after a few days.
The new additions to the Dove Amplified Textures line are overall good products. They are great for the no fuss individual who just needs products that get the job done.