by Destiny DeJesus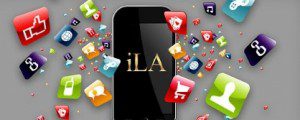 Believe it or not, most of us use apps everyday. Whether we are checking the weather, transferring money from one bank account to the other or just simply updating our status on Facebook or Twitter, we are constantly putting our mobile apps to use. On February 1st, a new app is going to be launched. It is the first of its kind in that it allows people to make profit!
Not only does this app pay people, John Marr, creator of SavageApps, specially designed it to help motivate and inspire others to build a healthy and productive lifestyle. iLA (Inspired Living Application) offers personal videos and tips on business development, goal setting, personal motivation and more. Not only can you access this information through your cellphone, you can also check out the webpage where you can search through iLA's library, watch past videos and look through subjects that interest you.
Yes, iLA is an insightful app itself, but the best part of it is that you can earn profit! iLA's matrix program allows you to make money without worrying about spending money or constantly recruiting people.  As of now, iLA is pre-launching the app for free until February 1st to anyone who signs up as an associate. iLA is giving you the opportunity to become apart of the exploding application industry before its even out to the public. You don't want to miss this opportunity!
For more information on how you can become involved for free, visit www.iLivingApp.com/occupations or email iLAoccupations@gmail.com.