By Khushboo Malhaltra
So, I've recently finished watching American web television series Family Reunion on Netflix (late to the party, apologies haha), and I must say I genuinely enjoyed this show. Well, I won't say it's perfect but it's a clean and enjoyable family sitcom, hats off to the creator, writers, and casting director, I loved every character and the actors portraying each role. Produced by Meg DeLoatch, Family Reunion was first aired on 10 July 2019 on the online streaming giant, Netflix. Family Reunion dips into some old school family tradition from a black-southern-Gospel-loving-family viewpoint to bring to air this refreshing, endearing family-friendly comedy!
Family Reunion follows The McKellans, a Black family that arrives at the house of the parents of NFL star Moses "Moz" McKellen (played by Anthony Alabi) for the annual family reunion. They live in Seattle, so the humidity and lifestyle of Columbia, Georgia seems difficult to them, especially with the kids. Moz, his wife Cocoa (played by sitcom veteran Tia Mowry-Hardrict) and their four kids — Jade (played by Talia Jackson), Shaka (played by Isaiah Russell-Bailey), Mazzi (played by Cameron J. Wright) and Ami ( played by Jordyn Raya James) are used to a certain American lifestyle while living in Seattle.
But eventually, after spending time at their family get together, they decide to move from Seattle to a small Georgia town. The sitcom is based on the family struggling to make the transition from life in Seattle to Georgia, where their extended family is residing. Moz is a professional football player who decides that it's time to hang up the rush of busy city life and enjoy a quiet rural life with his wife Cocoa and their children in the town where he grew up that may help to raise their kids close to family morals. As they try to figure out what their new lives will look like, they stay back with Moz's parents, setting the stage for an intergenerational sitcom full of heartwarming life lessons.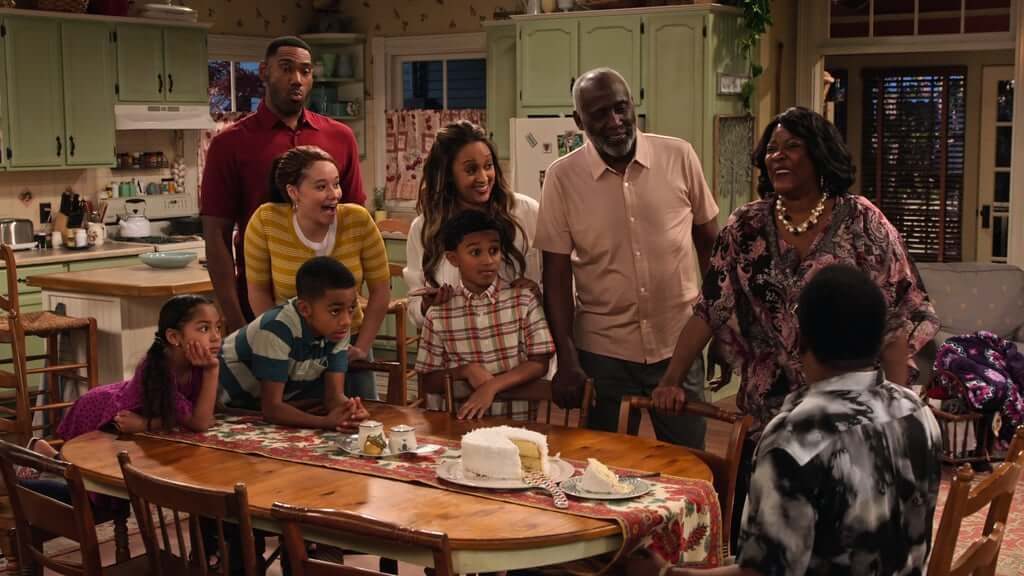 Sometimes corny is good. It creates a light-hearted, feel-good environment, where all you feel is enjoyment to the fullest. Family Reunion brings laughter to those who want to laugh and does so as it makes simple points about some of the issues black families have faced and in fact are still facing living as a roughly 14% population in a white majority nation. Family Reunion quickly unloads to generational conflicts and clashes with modern parenting while presenting the signifiers of Southern Black culture. For instance, when Cocoa tells her in-laws that she and Moz are "new-school parents," Moz's mother M'Dear (played by Loretta Devine) retorts stating that "The jails are full of new-school children." Moz and Cocoa are portrayed as the "new age" helicopter parents who may be over possessive at times but also do things like asking their kids what kind of punishment they think they deserve.
M'Dear has been portrayed as a traditional Southern lady who is extremely conservative of her thoughts. She cooks massive meals for her family, dresses up to go to church every Sunday and encourages (almost forcing) to take her family with herself, and is so proud of her baked goods winning the family competition every year over her sister Maybelle. While Jade, being the cool modern teenager, is entirely opposite. If any character has the potential to be compelling in Family Reunion, it's Jade. She is quick to challenge the conservative ideals of her family members. The show acknowledges her light skin, reflecting biracial, which it attributes to Jade taking after Cocoa's mother. In an episode, Jade encounters young Black Lives Matter activists at a party and is embarrassed when they call her out for not knowing who Huey P. Newton (co-founder of the Black Panthers) is. It's a promising moment that falls flat, as the show plays it merely as the new girl getting bullied, rather than actually emphasizing a very important issue of Black Lives Matter.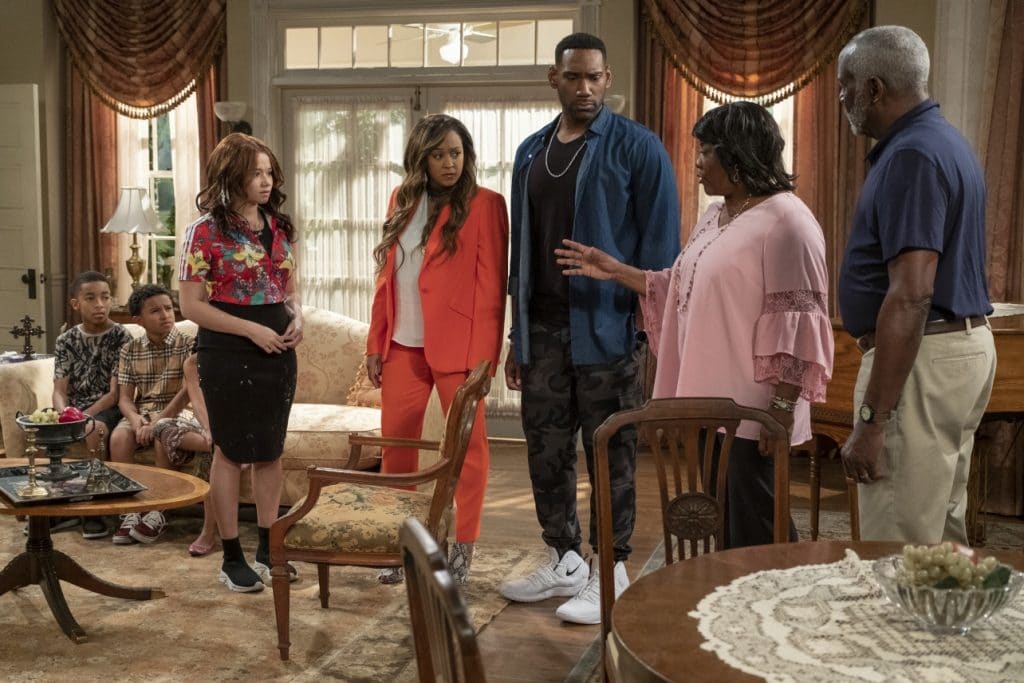 While the entire series is depicting and revolving around Southern Black culture, from cornbread to dressing up traditionally to church meetings, it barely emphasizes any controversial political or social issues. Even though at some parts, the writers tried to touch the hot-buttons, but only settled for safer punchlines. The show's emphasis on church and family affirms the patriarchy and the necessity of "slower," more "community-oriented" neighborhoods with "family support." Another instance raises a couple of social issues such as 'girls' dressing freedom', but without meaningfully engaging with it. I think they could have put a little more effort to leave an impact and more engagement. Another glaring example of Family Reunion's apolitical nature comes when M'Dear threatens to spank Jade, the "cool teenager." The series essentially argues that corporal punishment has value and plays the halfhearted opposition to spanking for laughs, but it feels like the episode was written 40 years earlier, rather than today!
I also liked the fact that every episode ends with a tribute to a person who helped make America a better place to raise a child. I literally looked up all those people on the internet to find out more information about their contribution. So, it would be better if the show could add at least a couple lines or a paragraph about them!
Family Reunion is definitely old-fashioned in numerous ways. But it has got some fine performances by the entire star-cast including Loretta Devine and Tia Mowry, while it discusses issues that will make you think between the laughs. Family Reunion has found a way to release entertainment that conveys positive messages of faith, diversity, gender equality, and self-love while refusing to ignore the ugliness that this country's reality often presents.
Even while depicting the stereotypical norms surrounding black families, it reveals the complexity of parenting, the importance of respectful communication, the need for history and customs to be passed on to the next generation, and all the while never ceasing to celebrate all shades of black and individual social interest. In all, this show delightfully provides what's missing from the networks. For that, it deserves applause. Overall, I believe this is a good show and will get better with the next part. Looking forward to the next season!!