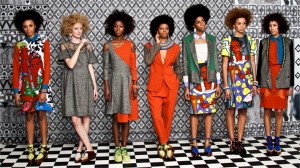 Natural hair sistas everywhere unite. It appears that we are making strides in all walks of life, most recently the modeling world, more specifically the catwalk. Owww. There is a new, refreshing group of models who are boldly and fiercely  embracing their natural coils. This is a major milestone for natural hair women everywhere.  Never have we seen beautiful black models on the runway, who really look like us, and we can identify even more now that they are embracing who they are even more.
The black model chronicles are filled with numerous situations of the aimless handling of one's hair. Left in the hands of hairstylists who are ill-equipped for caring and handling natural hair, Black fashion pioneers have recounted tales of their coils and strands being stretched to their breaking, frayed ends; scalps carelessly permed, harshly scorched, battered with color, and left to be restored by weaves, wigs, and the shearing of frazzled locks.
These haunting experiences are rarely talked about among the fashion world and often concealed in frustrated Facebook statuses, or tweets, or woeful interview admissions from present-day Black fashion favorites Chanel Iman and Jourdan Dunn; messages that acknowledge a problem, but rarely hold few responsible. This while Black model veterans Naomi Campbell and Tyra Banks have fought the effects of alopecia publicly, Banks raising significant awareness to the damaging toll modeling has caused to her hair by going completely natural in 2010, even urging Larry King to feel her restored scalp in an on-camera 2009 interview.
It is uplifting and inspiring to see the newest group of Black models storming the catwalks fully embracing  their natural hairstyles; from cropped Afros, flat tops, to buzzed scalps–and in turn being embraced by the industry that has typically approached black hair with skepticism and harsh critique. To those models, we say thank you for not being afraid to be who you are and by embracing all parts of you, even your hair, when the world that you work in does not normally encourage such things. You inspire us. Maybe a new day is here. We will have to wait and see if other models and designers do the same. And to the designers, who allow these women to shine in their natural beauty, we extend kudos to you as well.
By Nikia Pope