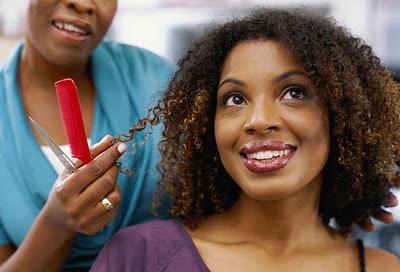 Hello Bronze Beauties! We've been giving tips on vloggers and on DIYing your hair your way, but this week we want to tackle a staple in the natural working girl's life: the Salon.
For most women who rock their hair natural, it's a toss up to love or hate going to a salon for more than a trim. Despite the natural hair movement, a majority of traditional salons don't specialize in natural hair services, and those that do only have a few stylists to help clients with such hairstyles. Because of the specialization, sometimes going to get a wash and blow out comes with a heftier price tag compared to the regular clientele. And while some women can and do pay the markup, others are left confused as to why.
The price of natural hair styling is a cumulative price considering the time the stylist takes, products bought and used, training/education of the stylist, and sanitation of the salon or environment. In some areas of the U.S. natural hair salons are popping up, but the prices leave potential clients divided. Some women claim that this still doesn't justify the pricing, since all those factors are built into the prices for the services already. And other women have argued that in terms of education, some stylists price their services too high compared to their skills, simply because of their specialty.
However, a few women do understand the stylists' reasoning. The truth of the situation is that non-chemically relaxed hair will take longer to detangle, wash, dry and style. And if you do it on your own, you have to experiment with methods and products to achieve the desired look. Yet the unanimous feeling is that the hair that's grown naturally is a cost hindrance to the salon when clients don't want to chemically alter their hair. They feel as if they are being penalized for going with their hair in its natural form.
Of course, the cheapest option is to do your own hair. With the right tools, products and knowledge of how your own hair works, coupled with DIY tutorials, styling can be more affordable to do on your own. Or better yet, having a more experienced friend or beautician student help you. But we want to give you some quick pointers for when or if you decide to try becoming a regular to a stylist. So here's our advice for a fun and informative day at the salon!
Research The Salon
It goes without saying, but you should do your research whenever you think a salon is a great candidate for you and your hair. Look at their services, their best and worst reviews. See if you can find photos of clients that have your hair type. Bear in mind which stylist can do what kind of style. It's a little more effort than a traditional Yelp search, but your hair will thank you.
Talk With Your Stylist…In Detail
When you finally talk to your stylist, you should ask any and all questions that come to mind before you begin any and all services. Asking about her certifications is one thing, but asking her how many clients did she actually work on is another story. Where is her certification from? Is that school reputable? How many years has she been honing her craft? It may seem tedious, but at the same time a stylist that doesn't have the proper credentials for the pricing being offered, shouldn't be pricing you so much.
Also, talk about your hair. Talk about it a lot. Mention your hair type, it's length, whether it's been dyed before, if your transitioning and for how long. All of those factors can vary what your stylist can actually do with your hair and in turn, alter the price.
See if You Can Compromise
If the initial price of the hairstyle is not ideal, you can always talk with the stylist about how to lower the cost. If you're willing to pre-wash and detangle your hair before the appointment, the stylist arguably can charge you less for her service. Same goes for bringing products that you want to use. It never hurts to ask, and it speeds up what she has to do in terms of setting a look!
Agree on the Price
Always agree or get an established estimate of how much your paying and stick to it vigilantly. Many clients would get frustrated when the initial price of a wash and blowout was changed over the course of styling because of the stylist believing they should charge more in accordance to the work. Ask (we're having a theme here) a proper estimate and stick to that bubble firmly via text, phone call, or a copy of the salon service menu. The only other amount that should be considered is the tip, if she does a good job.
Watch Your Stylist, and Ask Questions
While enjoying getting pampered is a must, it's good to actually monitor what your stylist does with your hair. If something is done differently than what you do, or if a product is being used that you don't recognize, ask immediately. Ask her what it does, why is it being used, and how much needs to be used. Even look at the product bottle or jar, especially if you don't want any sulfates or harmful ingredients in your hair.
This also helps because while you need to establish a level of trust, you need to be fully aware of the salon's procedures. In some traditional salons, an inexperienced stylist may mix a texturizer cream with a deep conditioner to make the hair behave more. And while some clients were happy with the results not realizing what had happened, other women have had horrible reactions and demanded their money back. So keep your eyes peeled before, during, and after your service.
With all of those in mind, please keep your hair (and your wallet) safe and in the know if you want to give yourself a pampering day!
Do you agree with our recommendations? Any other tips or advice on Salons? Do you go to the Salon, or DIY, or both? Please let us know in the comments below!
By Schane Flowers