By Nicollette Samuels
While being under self isolation is for our safety, it can be a bit depressing at times. Social distancing from our daily activities and one another can put anyone in a slump. One way to try and cope during this gloomy time is to try to go about your day as normal. Being home 24/7 might tempt you to stay in bed and wear your pajamas all day, but to feel livelier, why not try getting ready? Getting dressed, putting on makeup, and styling your hair are things that can help make you feel fresher and more accomplished. Here are some tips on how to get an amazing natural makeup look, that won't take hours to do and is perfect for quarantine Facetimes and Zoom work conference calls.
To prep for the most flawless makeup application, you always want to start off with clean, moisturized skin since skincare plays an important role in applying makeup. Clean skin ensures that you have a smooth and moisturized canvas to start on, preventing makeup from clinging on the skin's texture or dry patches.
Primer can be equally as important as skincare because its application is part of a preparation step, and depending on your specific skin concerns, there is a primer to help. There are various primers on the market to help perfect your makeup – pore filling primers, like Touch In Sol No Poreblem Primer, which helps to fill in large pores and fine lines. There are also moisturizing primers like Too Faced Hangover Replenishing Face Primer for dry skin, and gripping primers like Milk Makeup Hydro Grip Primer or Cover FX Gripping Primer + Firming for long lasting makeup wear. While this step is optional, if you have any of the problems listed above, this could be a good idea to use.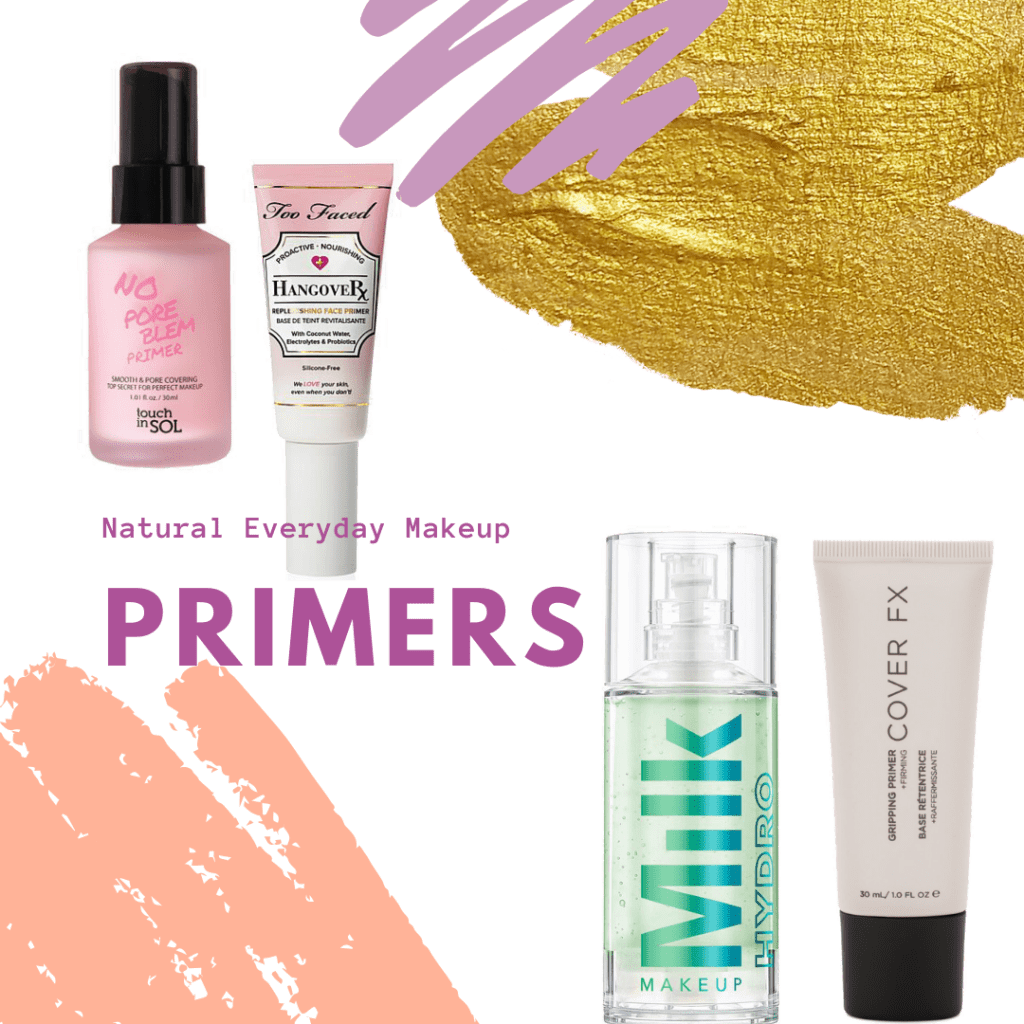 If there is just one step to recommend doing it would be your brows. Eyebrows are such an essential part of one's makeup routine because they frame and bring balance to the face. There are endless amounts of brow products on the market right now, but the eyebrow pencil seems to be the most universal and user friendly. The e.l.f. Ultra Precise Brow Pencil is a great, affordable option for those looking for a defined brow. To make sure all that hard work doesn't go to waste, it is advised to use a brow gel to set all those hairs in place. Glossier's Boy Brow is skilled at tinting and defining the brow hairs, creating a full and fluffy effect. It also has decent hold without feeling crunchy.
For the most natural makeup look, it all starts with the base. You don't want something with too much coverage, and you want the finish to mimic your natural skin and have a little glow. Light to medium coverage and satin or radiant finishes are excellent to achieve this look. Glossier Perfecting Skin Tint is a super light coverage skin tint made to even out the skin and give a dewy finish. This is good for people that don't like to wear foundation, but still want something to even out their skin and cover redness. For those who want more coverage, NARS Pure Radiant Tinted Moisturizer Broad Spectrum SPF 30 is great because it provides a buildable light to medium coverage with a nice glow. While these options are great for attaining that natural look, it doesn't have the ability to cover up major imperfections like dark spots and large areas of hyperpigmentation. To correct this, it is best to use a heavy duty, full coverage concealer to spot conceal certain areas.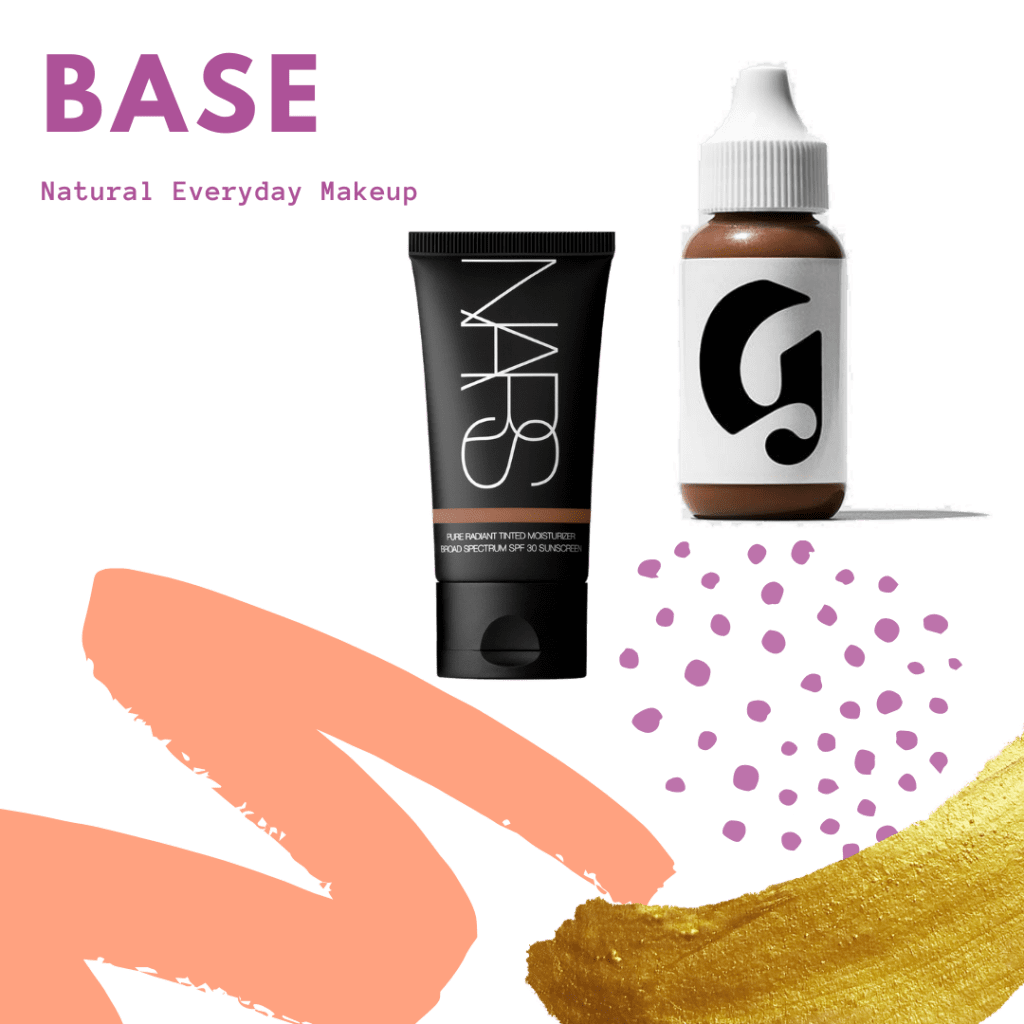 Blush is great for bringing color onto the skin to prevent a one dimensional look. Liquid or cream formulations are best for giving a skin-like finish. Blushes like the Flower Blush Bomb Color Drops, Glossier Cloud Paint, and Milk Makeup Lip and Cheek Stick will give your skin a natural flush.
Highlighting the skin is not the most necessary step, but it makes a world of difference. Highlighter is one of those products that just amps up any makeup look, giving you the most blinding, angelic glow. Although you don't want your skin to appear too bright when doing a natural makeup look, it can kick your makeup up a notch. Glossier's Haloscope will really give a natural lit from within glow and e.l.f.'s Beautifully Bare Highlighting Stick in Fresh Morning Dew will give the skin a healthy glow without any color or shimmer, as if you drink a gallon of water every day and have the most extensive skincare routine.
To make sure your makeup lasts all day and doesn't get too oily, you must set it with a powder. Loose setting powders are great for setting the face because they are finely milled, cut the shine from oily skin, and don't make you look cakey. Powders such as Laura Mercier Translucent Loose Setting Powder and Hourglass Veil Translucent Setting Powder are amazing choices.
Mascaras that strictly lengthen lashes tend to be the least dramatic and most natural. Covergirl's Flourish by Lash Blast and Glossier's Lash Slick mascaras do a great job at lengthening and separating lashes without clumping.
Finally, add a little lip gloss to complete your natural makeup look. It's a good everyday lip product that will make your lips shinier and noticeable. Fenty's Beauty Gloss Bomb Universal Lip Luminizer in Fenty Glow, is the perfect shade for everyone.
Follow these steps and you will get an amazing, natural, no makeup-makeup look.