By: Chelsea Young
Bronze Magazine recently chatted with Natalie Taste of YourInnerFatGirl, a New Orleans foodie and lifestyle account selling clothes, mugs, and other brand merchandise. While Natalie began the account five years ago, she did not go into business till about two years back. She recently dropped a new loungewear collection that came under fire on Instagram by the plus size community. They shared their distaste with the name and why they believe that Natlaie and her brand are being insensitive to plus size people. Natalie was eager and grateful to speak with us about YourInnerFatGirl and it's recent debacle and share with people the true meaning behind the brand.
Bronze: How did YourInnerFatGirl come to be?
Natalie: YourInnerFatGirl came about as what would now be considered a "finsta." I wanted to carve out a space for my personal interests. It was something just for myself at a time in college where I felt like an outcast. I made a separate Instagram page and would just post my own photos of things that I liked.
Bronze: What was your inspiration behind the platform?
Natalie: I think the reason was to figure out my own interests, things that I like, and just find a route to myself.
Bronze: What did you have in mind when naming it "Your Inner Fat Girl"?
Natalie: I saw it as my inner self. Whoever that was, it was somebody I could be on Instagram. "Fat girl" was catchy because the account was about food, but at the same time "fat girl" was also my nickname at the time, so it was like my inner self. I understand the controversy behind the name, but it's not about that, it's about me. It's who I saw myself as inside and was too afraid to show. I think everyone has that person in them.
Bronze: How has YourInnerFatGirl grown since you began the platform?
Natalie: It went from being about food, then it turned into merch, and now it has become more of a lifestyle account. I think people were expecting all food content but I don't want to be held to anything, I want to build a community.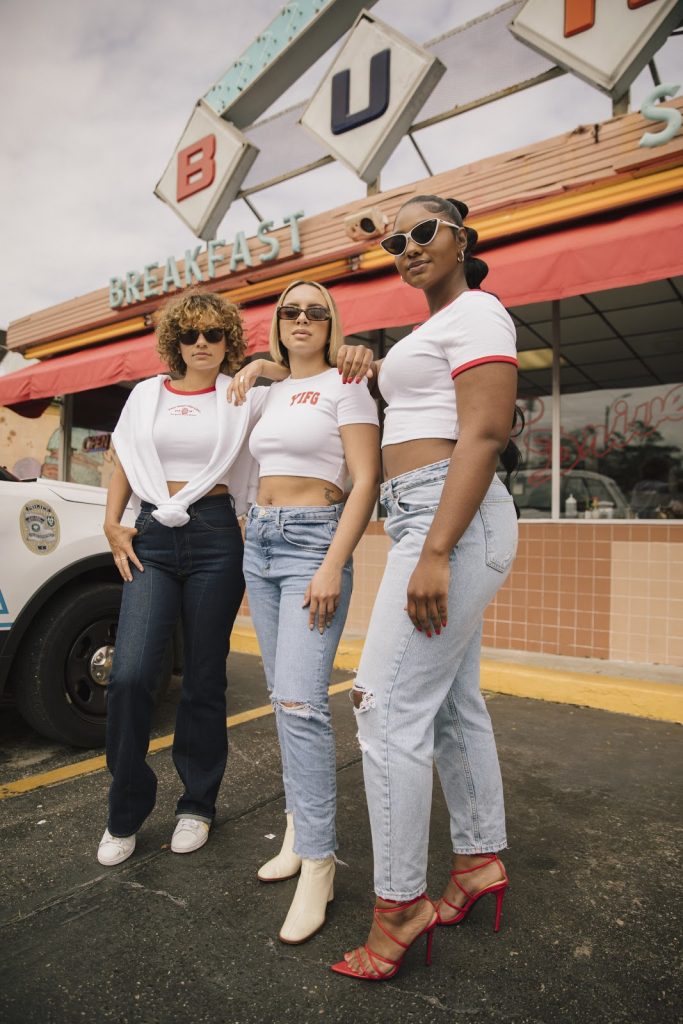 Bronze: How has YourInnerFatGirl changed your life?
Natalie: It gave me a career and a route to be passionate about. I was always in the fashion spectrum but I never saw myself being serious with YIFG. I'm just so blessed I've been able to merge the two. This was my hobby, eating out and documenting it, and now it has made me self-sufficient.
Bronze: What do you aim for your platform to do for other women?
Natalie: Inspire them to chase their dreams, whatever they may be.
Bronze: When people began to express displeasure with your brand, what were your first thoughts?
Natalie: My first thoughts were that I understand where they are coming from and I understand why they are upset. It's a touchy subject. People deal with fatphobia and other body issues, I have as well. So I was very understanding and I just need to show people that's not who I am. Maybe I'm doing a poor job at expressing that, but they have the wrong opinion of me.
I would rather it happened now than later, and it gave me the reality check that I need to be more conscious of what I'm putting out there. It also made me realize how much of an impact and what noise I'm making right now. I'm grateful it happened.
Bronze: What steps have you made to correct oversights?
Natalie: I'm in the process of creating more sizes so I can offer up to size xxxxxl in all my merch. I am also increasing representation throughout all mediums of my platform. I want to take myself out of the equation, that way the brand can be uplifted for what it is and not looked down upon for me not being a plus size person's view on what's plus size.
Bronze: What would you have to say to the people who are still expressing animosity?
Natalie: I would tell them to view my statement, read my words, and I can only hope that they believe it's genuine. Reach out to me, talk to me, and see what I can do differently.
Bronze: Tell us about your latest loungewear collection GoodFatVBadFat.
Natalie: Well the "V" in the name represents the five year anniversary of the start of YourInnerFatGirl instagram account. As for "good fat" and "bad fat," this year I found myself on a health kick. I switched up my diet, I'm more careful about what I put in my body, I read the labels of products, and I began to take vitamins. I'm trying to uplift good fat and bad fat. I see it as the angel and devil on my shoulders.
The "Bad Fat" collection is my staple red and white colors and is more sexy, while the "Good Fat" collection is green, white, and baby blue to portray a fresh and natural aesthetic. The baby blue is in honor of my little sister who recently passed away this year.
I'm trying to show a balance between the two lifestyles as well as show the two sides of me.
Bronze: What is next for YourInnerFatGirl?
Natalie: I'm taking it much more seriously and going all in. Showing people that I'm not just local. People are always shocked when they see how many places across the country I am shipping merchandise to and I want that to be more known.
Another drop is coming for GoodFatVBadFat, but it won't be in the form of clothing. It will, however, taste really good.
To shop the recently dropped GoofFatVBadFat loungewear collection you can check out YourInnerFatGirl's website where you can find all the merch available to purchase, and be sure to subscribe to be the first to know about upcoming collections, events, and all YIFG news.