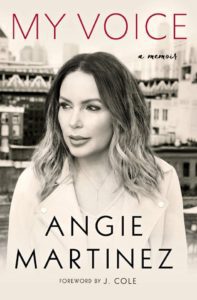 On March 8th, Angie Martinez, a.k.a. The Voice of New York, took us on a journey from her first encounter with hip-hop, to where she is today with the release of her book My Voice: A Memoir. The forward, written by rapper J. Cole, gives us an idea of how respected Angie is by hip-hop artists, both new and experienced. Her journey with hip-hop shows us how the growth of the culture effected those who were around it and interacted with it.
Angie begins her memoir by explaining how her decision to leave Hot 97 was a lot harder than even she expected it to be. There was no leak that she was leaving, moments before her radio show on June 18th of 2014, an official email was sent to the entire Hot 97 staff breaking the news. Angie was met in the hallway by her coworkers whose eyes were full of tears, sad to see her go. She had been with Hot 97 for over 20 years, solidifying a comfortable space in the company before the Program Director, Steve Smith, had even thought of transitioning the station into a full-time hip hop radio. When Angie announced her resignation on social media, the hip-hop world responded with sadness and support. That day she got a call from Ludacris and Tyrese while they were on set for Furious 7, a text from Wale, flowers from Rihanna, an unexpected visit and gift of sunglasses from Taraji P. Henson, and a text from Jay Z; just to mention a few. Media outlets had a field day, the following day, when Angie announced that she was headed to the competing radio station, Power 105.
Angie explains what life was like for her growing up in New York at the time that hip-hop was growing too. She reminisces on the hardships her family went through, as well as the struggles she faced as her surroundings influenced her actions. In junior high and high school, she found herself skipping school, smoking weed, getting into fights, and even experimenting with crack. She was undoubtedly more interested in hip-hop, and what is was becoming, than what any teacher could teach her in a classroom. She considered herself a B-girl; break dancing, wearing baggy shirts and swishy pants, and schooling all her friends on the lyrics of the latest hip-hop releases, from Grandmaster Flash's "The Message" to Run D.M.C.'s "Hard Times."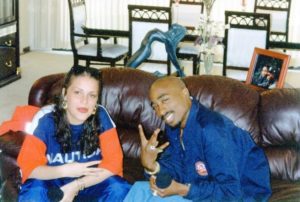 A pivotal time in her life that she mentions throughout the book was an interview she had done with the late rapper Tupac Shakur, which was never released in its entirety. After denying Tupac's request to be in his "I Ain't Mad at Cha" music video because of the tension between the East Coast and West Coast at the time, he invited her to LA to interview him to hear his side of the story. He sent her a ticket, first class, and made sure she was as comfortable as the situation would allow. Angie knew that if she released the full interview, it would possibly heighten the beef that Tupac claimed wasn't there. In an attempt to keep herself, and Tupac, out of drama, Angie only released 12 minutes of the 2-hour interview. She went back and forth with her decision, and whether or not it would make everyone happy. In the end, Tupac was grateful that she didn't bash him on air, and she took his advice of never letting people's opinion get to her head. She has used that advice throughout her career, and it has saved her a lot of time that could have been wasted. When Tupac was announced dead by doctors at the University Medical Center of Southern Nevada, Angie was amongst the first to know.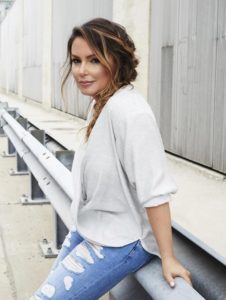 Many of the situations that Angie found herself in have molded her into the woman she is today: a hip-hop fanatic who provided first hand news, like the death of Tupac Shakur, and a platform for many of the well-known and respected artists today, like Jay Z and Lauryn Hill. Ironically, for a woman who doesn't like to look back on the past, she has given us a look into who she and hip-hop was, and what they have become. Her book is rated at 4.7/5 by Barnes & Noble and is officially a New York Times Best Seller. If you haven't already, pick up a copy of the book and experience Angie Martinez' life journey, hand in hand with hip-hop.
By Uchechukwu Nnedinma
Designed and Edited by Renita Singleton