By Ariel Swopes
Skincare sections in many high end stores have always intimidated me. I knew that having a skincare routine was vital, but I wasn't satisfied with paying $60-100 for one product. Instead, I found products in Target and Marshalls, and honey, my skin has been lit ever since! Below you will find how I keep my skin happy, glowing, and healthy!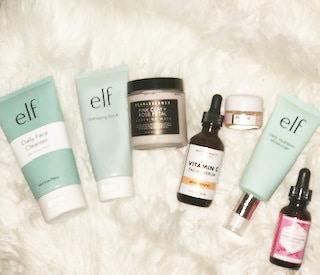 First, I use a cleanser, this helps freshen the skin and also remove makeup and prepare the skin for makeup if you choose to wear it. I use this twice a day. This bottle from Elf cost me $4 at Target, the brand is vegan as well which is a plus for me.
Second, I use an exfoliating scrub also by Elf. I use this twice a week because too much exfoliating can cause inflammation to the skin. It helps with removing dead skin, and it increases blood circulation. This product cost me $5 at Target.
Next, I use a pink clay and rose petal mask by Pearlessence. I use this particular one because it helps detoxify my skin, while slightly exfoliating the skin. This product cost me $6.99 at Marshalls. After, I use Provence Beauty's facial serum that helps with brightening, and evening my skin tone to help give it a glow. I found this at Marshalls for $6.99. The next step is for my eyes, which get extremely puffy so I use Skinlab Revitalize & Hydrate Eye Repair Gel, which helps minimize their puffiness. Found this at Marshalls for about $6. My last two steps are my moisturizer from Elf for $8, and my Leven Rose Pomegranate Seed Oil, which I found on Amazon for $13. Both help with hydration. Taking care of your skin does not have to be expensive, you just have to be consistent!