The VMA's are always a place for celebrities to express their personal style and take risks on MTV's red carpet, or in this year's case, their multicolored carpet. This year women of color were especially stunning on the red carpet.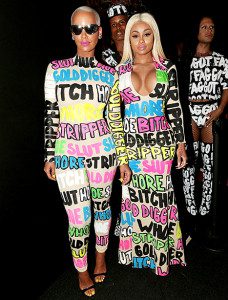 Amber Rose and Blac Chyna were front and center in their nude skin tight outfits that were especially striking due to the insults that were painted on. The clothes were simple, yet revolutionary because they featured the insults that all women are faced with on a daily basis. The other half of their crew wore an all black ensemble that featured insults that are usually targeted towards men. These outfits left a lasting impression and the women definitely made their statement.
Ciara wore a high collar Alexandre Vauthier dress that included slashes in the fabric
as well as draped sleeves that created the illusion that she was wearing a dress. The look was bold and she carried it with a sense of regal style. Empire star Serayah also wore a similar shredded ensemble, but hers was white and looked more like a dress. FKA Twigs followed soon after wearing a revealing black Atelier Versace dress. The corset dress allowed for a lot of skin to peer through, but it is perhaps the sheer skirt that pulled the look together and allowed it to look more mature. Her strappy heels put together the daring outfit and her confident stride down the carpet made all eyes turn towards her.
However, Nicki Minaj's dresses were perhaps the most breathtaking making her the winner of the night. The queen of rap walked down the carpet wearing a gold Labourjoise mermaid style dress that was see though and had a plunging v neck. The dress flattered her body perfectly. However, this wasn't the only show stopping outfit. For her opening performance she wore a red sequined dress with traditional Trinidadian headdress. The dress moved well with the singer who performed her song "Trini Dem Girls" alongside Taylor Swift. Â Both of her outfits were beautiful and allowed the artist enough wiggle room to twerk before accepting her award and uttering those famous words we all know, "What's good Miley?"
by Andrea Carrera