by Aisha Powell
The chilling plot that keeps you on edge, the surprise twist that you didn't see coming and the melanated cast that you can't keep your eyes off of – this is US, the horror film directed and co-produced by comedian Jordan Peele.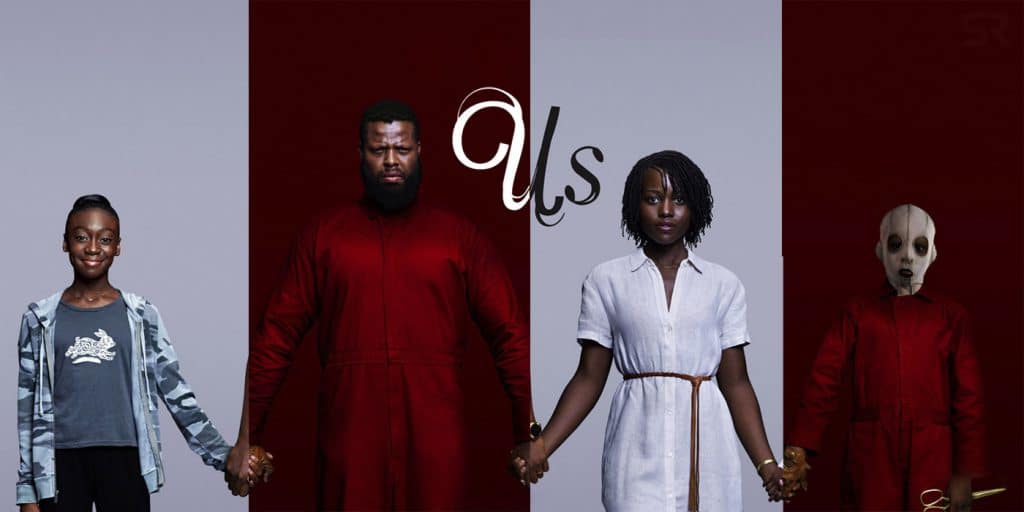 The thriller has already grossed more than $200 million on opening weekend and is the number one horror movie in America right now. The trailer, set to rapper Luniz's "I Got 5 On It," featured a 4-person family cruising down a scenic route, with some familiar faces: Lupita Nyong'o plays the role of the mother and Winston Duke, who played M'baku in Blank Panther, plays the father. Their kids are played by acting newcomer Evan Alex and Shahadi Wright Joseph, who will be in the Lion King remake later this year.
The plot is "simple," a family returns to their summer house to vacation with friends. But in true Jordan Peele fashion, the story takes a turn when the family is faced with murderous, mutated villains – who happen to look exactly like them. Peele's play on parallels between mythology and reality is similar to that of his first horror film, "Get Out." As the family tries to defeat the versions of themselves, the latter with obtuse but enhanced characteristics, they realize that the problem isn't just affecting them. It's affected us.
Here are the characters:
Lupita Nyong'o plays the lead protagonist, Adelaide Wilson. Adelaide had a traumatic incident as a child that she thought she had overcome. Instead, it has followed her to adulthood and has been haunting her everyday life. Adelaide is the protector of her family and a former dancer. Throughout the movie, her paranoia peaks the second her family goes on vacation. But she subsides it to appease her family, mainly her husband, Gabe. As she feels that darkness has finally caught up to her, she takes it on herself to save herself and her family. But who is she really saving?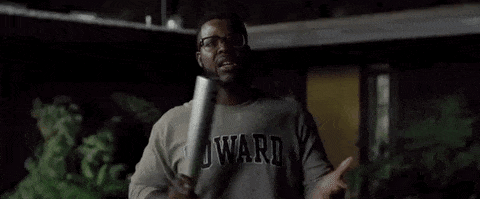 Winston Duke plays Adelaide's husband, Gabe. Gabe is the quintessential "man" and the epitome of black father portrayals in the movies. Armed in his Howard University sweatshirt and his fun-loving attitude, Gabe provides the laughs. He wants the family to have a good time on vacation, even renting a boat so they can tread the water. When he sees a family in his driveway, he thinks he can scare them off. But when they disperse on his property, he realizes that this family has vengeance. Can Gabe be the man that he wants to be and save the day, or will his knock to his "dad bod" make him take a back seat?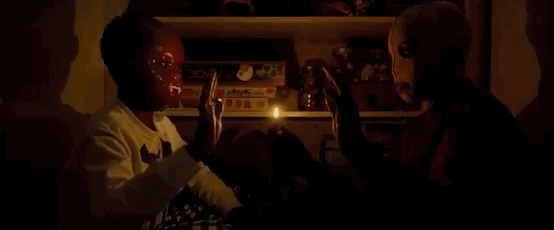 Evan Alex plays Jason, the youngest of the two Wilson kids. Jason is a stereotypical boy, with a surprise potty mouth. Jason likes magic tricks, even though he's not good at it, and loves to bother his sister Zora. He wears a creepy mask for some parts of the movie and is never too far away from his protective mother, except for one-time at the beach when he plodded away to use the bathroom. The young boy finds himself using his debunk magic tricks to save his family and beloved mom, but who is he actually saving?
Shahadi Wright Joseph plays Zora, the teenage daughter who is too cool for most things. She runs track, but isn't interested anymore; it doesn't fit in with her aesthetic. When she's not teasing her brother, you can find her on her phone listening to music. When unexpected visitors intrude on her family, she finds herself using her running skills to get away. Or so she thought. Can she take the lead and help her family or is the other version of her better?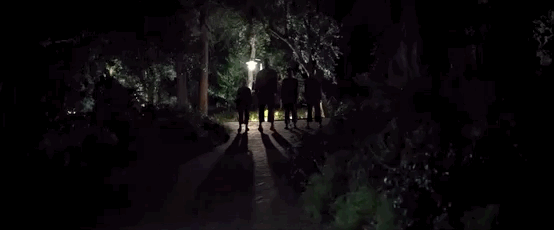 Us makes you think about the complexities of the world and yourself, while providing an instance of what could be happening; not to mention, the representation of a dark-skinned black family on the big screen is one that doesn't happen often. In an interview with the Hollywood Reporter, Peele said depictions of black families is all you will get out of him."I don't see myself casting a white dude as the lead in my movie. Not that I don't like white dudes," he said, "But I've seen that movie." Us is currently in theaters.