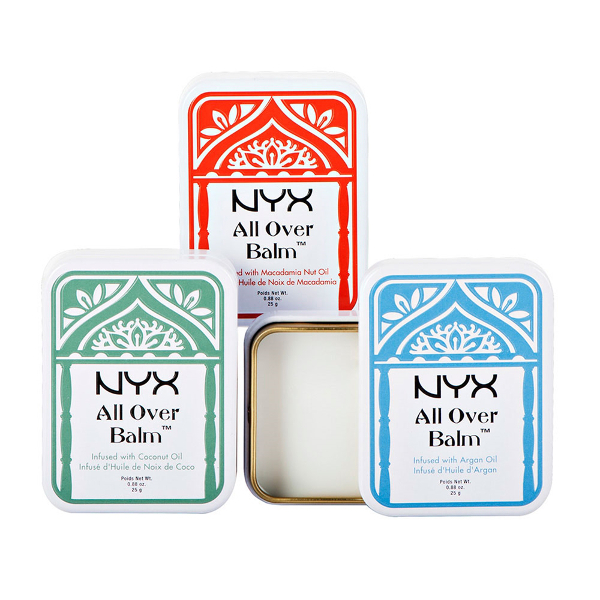 I'm a sucker for butters and balms whether it's for your hair or your body. Nyx Cosmetics makes it easy for me to feed my addiction with their new All Over Balms. I was hesitant at first, but the cute tin packaging sucked me in. This is a non-greasy balm that can used from head to toe. With your choice of an argan oil infused, coconut, or macadamia oil infused balm, grabbing all three is a no brainer. They are solid, small, and practical enough to be great for travel, kept in a purse, inside of a desk, or lying around for quick use.
As we officially begin winter these are especially great substitutes for hand creams. Swipe your finger across the top and smooth down any hair flyaways that the wind has created. Also it's a great way to moisturize your ends. Treat your elbows, knees, and feet to some intense moisture with these balms. It is also a great mid day eye brightener when you dab a small amount under your eye. This reactivates your concealer and under eye area giving you a youthful glow. Needless to say, this is a great lip balm whether you're using it alone, under, or over lipstick. These little tin cans provide you with endless possibilities.
Nyx All Over Balm can be found at Ulta stores for $6.50. The moisturizing benefits that each brings along with their light airy scent can allow you to multitask, practice great skin care, and save your coins.
by Rosalyn Robinson