By Reggie Pierre
Main Image Credit: Alanna Gilbert
Saje Nicole is a Haitian-American model, actress, and entrepreneur based in Miami, Florida. The eldest of 2 children and born in Turks And Caicos, her family moved to the states at the age of three. Saje Nicole can't pinpoint the exact time she wanted to become a model, she just always knew that modeling was something that she aspired to do one day. Attending Nursing School complicated things even more for her, so after one year she left nursing school to pursue her dream of being a model and never looked back. She has previously worked with brands such as Rare Beauty, SKIMS, Vogue Italia, Nike, Lu Lu Lemon, Savage X Fenty, Sports Illustrated, ILIA, and many more! Currently a finalist in the Sports Illustrated Swim Search 2021, Saje's mission is to inspire women to pursue their dreams, and to do so unapologetically.
Bronze Magazine: Being of Haitian descent and the eldest of two children, how did leaving nursing school impact your family dynamic?
Saje Nicole: "It's crazy that you've asked me that because I had left nursing school and my mom didn't know. I would get up every morning acting as if I was going to school but I was really just out there hustling to get recognized doing what I love. Eventually I had to fess up and let her know I dropped out of college. If you have a Haitian parent, you should know how the conversation went after. My mom is now very supportive of me modeling. I think everything fell into place for me gracefully. It was not until the other day that she congratulated me on becoming a successful model. She had her doubts but I pulled through and didn't disappoint."
Bronze Magazine: Now Saje is signed with two major modeling agencies Wilhelmina Miami and Natural Models LA, as well as her acting agency CGEM Talent. She has also previously walked in Rihanna's Savage X Fenty Vol. 2 Runway Show. Saje is just getting started! She is also pursuing an acting career, having previously starred in 'Bad Boys III' alongside Martin Lawrence and Will Smith, and 'The Beach Bum' alongside actors Matthew McConaughey and Snoop Dogg. She has also been featured in music videos for Chris Brown and Trey Songz.
Bronze Magazine: You've previously walked in Rihanna's Savage X Fenty Vol. 2 Runway Show. Are there any other fashion line companies you aspire to walk for one day? Who are your top choices?
Saje Nicole: "My top fashion line companies I would love to model for are Channel, Louis Vuttion, and of course Mugler. Anything overseas in Europe would be life changing!"
Bronze Magazine: Saje has encountered many obstacles along her journey, including the lack of diversity in the modeling industry for both women of color and for women that weren't the traditional size 2. She details the time when she noticed a fellow model eating a pizza slice before walking down the runaway. That day changed her perspective drastically. She knew she wanted to continue modeling but also knew that her mental and physical health was by far more important. She decided to maintain a steady diet that required her still eating the foods that she loved while always keeping up with the kind of physique she wanted.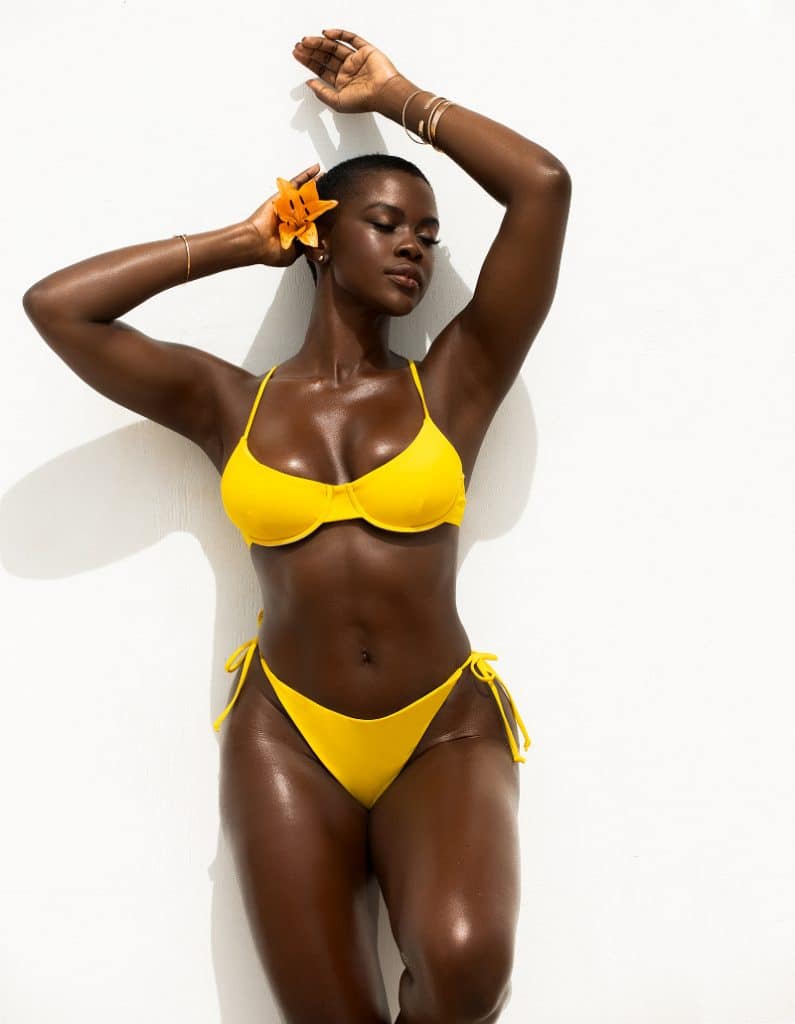 Bronze Magazine: After facing many obstacles throughout your journey, was there a particular instance that occurred which molded you into who you are today ?
Saje Nicole: "I remember applying for a modeling job and I didn't receive it because I just was not the look they were looking for. I have been told to lose weight when I was already at 125 lbs , I was told that I was too skinny when I did lose the weight. I was too dark and too short. That was something that I had to get used to, especially since the variety of black women in modeling is scary. Now it's as though being black is the new trend, whether you're an influencer, model etc. you're being watched and considered."
Bronze Magazine: What do you hope to further accomplish at your modeling agency?
Saje Nicole: "Realistically, walking in more fashion shows would be ideal but I am currently a finalist in the Sports Illustrated Swim Search 2021. I am very excited, the journey has been impeccable. I would also like to confess that my next goal is to become an actress and create my own fashion line. My creativity is still in the process. I have much more to learn but all these experiences are molding me into a great entrepreneur."
Bronze Magazine: What has been your experience thus far as a finalist in the Sports Illustrated Swim Search 2021? What has been your most exciting project?
Saje Nicole: "At first The Beach Bum' alongside actors Matthew McConaughey and Snoop Dogg was my favorite project that I've been a part of, for the simple fact that I was able to see celebrities really remain focused and take their job very seriously.
Snoop Dogg was very nice and his personality is just amazing, but when it was time to tap back into the character he was all in; the dedication and hard work they showed will forever stay with me. He was also very humble. I remember that about him!
But overall, my most exciting project now is the Sports Illustrated Swim Search. It's been a long journey that has been absolutely the best learning experience of my life. The photographer directs and helps you with everything, he is truly an amazing man. I couldn't thank him enough for showing me new things.
Being a part of the few finalists that have made it this far reminds me that I am doing something right. Running around trying to get ready, shooting, going to different places and just being a part of something so great has given me a new meaning of life."
Bronze Magazine: "What is the best piece of advice you can give to aspiring models?"
Saje Nicole: "The best piece of advice I can give any up and coming model is when shooting with an agency or just for your portfolio it's important to work with a team that will bring out the best in you. Especially in this industry – models, photographers need to stay sharp, trendy and current.
Most importantly, maintain a nice clean shaved body. The last problem you want to have is to be hairy or unclean. Looking good makes you feel good. Always aim to always look and be ready."
Another piece of advice I can give is to be open to being coached; modeling for black women particularly is a hardship because we face so many obstacles within the industry. But when you find somewhere you can grow or someone you can grow with, allow them to give you all the resources and coaching they can give you! It will go a long way, especially because networking is so important!"
Bronze Magazine: Saje Nicole is a NOW Published Sports Illustrated Model alongside Naomi Osaka, Megan Thee Stallion and Leyna Bloom! Saje's photos for the Sports Illustrated Swim Issue released on July 19th. She is proud to be included in a historic issue showcasing three black women on the cover for the first time! Mark my words, Saje Nicole will take over the modeling industry and soon become a fashion icon with her up and coming fashion line!