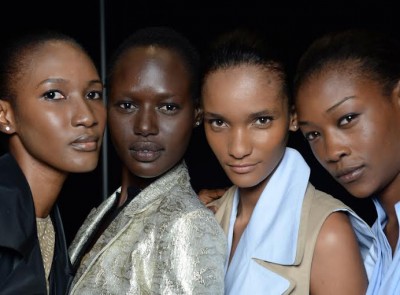 During NYFW you'll see the world embark on a journey of fashion, beauty, and culture. When I was younger I was intrigued with the life of the models. As I've matured my interest has shifted towards the beauty trends, product launches, and seeing how our culture and society changes over seasons. I must say thus far I haven't been disappointed.
As a natural girl myself, I'm always excited to see texture on the runways. Scouring through footage and photos there has been style, texture, and variety on the runway. Many designers opted for the models that were natural to rock it out with their TWA's. With all this texture on the runway it's enlightening to see a more colorful and diverse group of models represented. And kudos to fashion designer Tome for having a whopping total of 8 models of color in his show.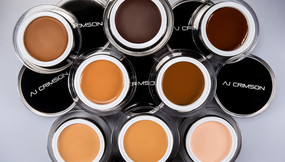 Of course the beauty junkie in me was excited when AJ Crimson launched his Dual Skin Crème Foundation, an all in one foundation that's sheer but buildable, covers without being cakey and feels and looks like your skin. He has mastered this in 13 shades. AJ has created the perfect foundation that doesn't clog pores while locking moisture into the skin. The foundation can be found at ajcrimson.com retailing for $35. Along with Tome having diverse models, the makeup on the models were from the Nars collection launching in spring 2015. We can expect to see a soft velvet loose powder, new lipsticks, and long wearing eyeliners just to name a few.
From the runway to the front row, pops of color are shown through accessories, nails, and lips. The one constant that remains is the flawless, barely-there makeup with a bold lip. Many celebs have chosen to keep makeup minimal while adding life to the pout. Stripes, glitter, and stones on the nails have all been showcased this week. Using beauty and accessories to showcase personality and style, and to tell your story speaks louder than any trendy outfit. The more color the more versatile we become. Live in Color!
NYFW week can be live streamed @ www.mbfashionweek.com
by Rosalyn Robinson