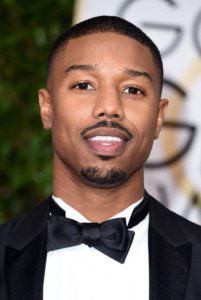 Creed star, Michael B. Jordan is striving towards being a prominent figure in Hollywood, not only on-screen, but off-screen as well! Jordan just recently announced the launch of his new production company, Outlier Productions. Jordan teamed with Skydance Media, for a "multiyear film and TV production deal. "Jordan's job will be to produce TV shows and movies being made, through the production company.
Jordan's first project with Skydance Media is Apollo Park, a TV show about an up and coming basketball player. The show follows the basketball player's rise to fame as he struggles to maintain relationships with his friends and family back home in Detroit.
"I love telling true, modern stories and Apollo Park– an underdog take about a very real and very heroic hustler who defies stereotypes and thrives against great odds," Jordan tells the Hollywood Reporter.
Jordan is also in Marvel's upcoming film, Black Panther, along with 42 actor, Chadwick Boseman, and 12 years a slave actress, Lupita Nyong'o, which is set to release in 2018. Congratulations to Michael B. Jordan on the launch of his production company, and to being a prominent Black figure in Hollywood!
By Tiara Bryant