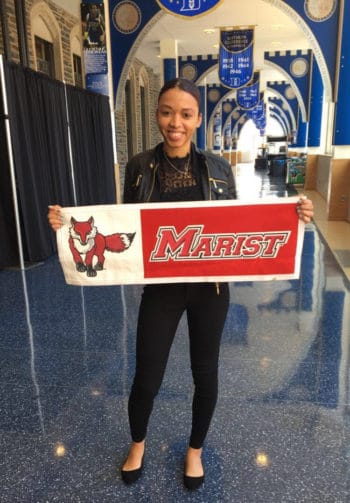 As a young girl growing up in a low income and violence stricken area in the South Bronx, New York, Darriel McBride was exposed to various adversities. Â From living in a single-parent household, facing financial difficulties, dealing with the incarceration of her family members, the death of her cousin by a police officer, or even trying to identify with her Puerto Rican roots, McBride has always felt unfortunate to have endured these situations. However, her misfortunes have never infringed upon her willingness and her pursuit to create a life different from what she has lived.
"For me, I was so turned off by the things I was seeing in my community and in my family. I wanted so desperately to change that. I wanted to be a better person and try to make something of myself and get an education."
Now at the age of 21, McBride will be the first person in her immediate family to graduate college. Education has become a resourceful tool for McBride where she has utilized it as a platform to envision a better life, not just for herself, but for society as well.
McBride accredits her educational path to the Gates Millennial Scholarship. The competitive scholarship is funded by the Bill & Melinda Gates foundation and provides financial support for minority students to have academic success, as well as to increase the representation of minorities in certain disciplines:Â  computer science, education, engineering, library science, mathematics, public health and the sciences. Fortunately for McBride, being a recipient of the scholarship exposed her to all new possibilities and revenues of life. Even more importantly, it broadened her scope of the world and of human rights injustices.
Upon first attending Marist College, McBride wanted to pursue a major in English/Theater, however, around her sophomore year she turned her field of study towards English/Education and became involved in more clubs and events that targeted various issues.
"There are definitely a lot of social and political issues that I feel passionately about. They are mostly human rights because a lot of it comes down to race and poverty, but I think when you think about human rights, people don't realize the injustices that exist in our society are infringements on our human rights. So my rights to education, life, liberty, and the pursuit of happiness are infringed upon by things like poverty, public school systems, mass incarcerations, and the epidemics of drugs in low income communities, all of which have existed in certain societies before I was even born. All of these things infringe upon my human rights because they create barriers that normally wouldn't be there for other people, and those are some of the things I really care about," said McBride.
McBride made the decision to run for president of Appreciating Races and Creating Opportunities (ARCO), a club on campus. Â She successfully earned her presidency from Fall 2014- Spring 2015 and was able to begin working towards her ultimate mission: raising awareness and bringing about change. As president, she met with various clubs and important committees on campus such as the Diversity Committee and The Academic Affairs Committee. Although McBride was a representative of ARCO, her ideas encompassed concerns of the student body as a whole.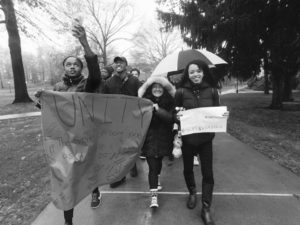 "My first impression of Darriel was that she is confident," said Dr. Kristin Bayer, Assistant Professor of History and also a chair member on the Academic Affairs Committee. "The way she speaks about things is so smart and definitive…She has an amazing way of developing an idea and setting out how to pursue and accomplish her goals."
Dr. Bayer was first introduced to McBride when she attended a meeting about diversity issues on campus held by the Academic Affairs Committee. Since their first encounter, both Bayer and McBride have continued working strategically at finding ways to make the Marist campus inclusive.
In fact, McBride admitted that in working with various teachers and other individuals of the school's administration, she was able to gain more perspective on things. She attributes her growth to teachers like Dr. Bayer, Dr. Rose De Angelis, Renee Eastabrooks and many more teachers who have actively worked towards initiating change and raising awareness within their classrooms.
McBride is constantly searching for ways to challenge the status quo. Though her term as ARCO's president ended in the Spring of 2015, she has used her learned experiences as a means of tackling other leadership positions on campus. For the Fall 2016 semester McBride became the VP of Academic Affairs for the Student Government Association (SGA).
"When I think about my life, I think of me wearing a superwoman cape and going around trying to help everybody. I think there is a lot of value in helping people," explained McBride.
McBride has been involved in designing and co-designing many projects. These include a letter and petition proposed to Marist College President David Yellen to address hate crimes and the political atmosphere on campus, The Unity March, and The Academic Diversity Courses Survey.
In addition to these projects, McBride also engages in personal projects outside of her leadership roles. She is currently working on an Emotional Intelligence Survey.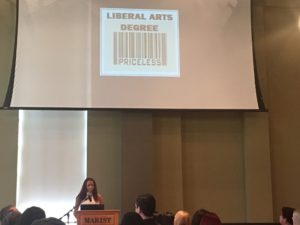 "I'm hoping to use it to bridge the gap between those who are socially and politically active and those who are not, and get a better understanding of how where a person comes from contributes to their emotional intelligence & social awareness," said McBride.
Aside from forming working relationships, McBride also develops personal ones with those she comes in contact with.
"We're both leaders of color on this campus and in our own communities. We share a love for social justice and multiple forms of art that others aren't always keen to," said Bryanna Christian Renee, a senior at Marist College.
Renee is currently the president of the Black Student Union. She was introduced to McBride at a talent show held by the BSU where the two "bonded over their love of literature and slam poetry."
McBride has and continues to take a very adamant stance about her political views on varying controversial topics. Much of her activism is criticized by some and often carries negative misconceptions about her. People have called her out to be too aggressive, too liberal or unapproachable because of her bold expressiveness.
"I think the people that know me would actually challenge that [those conceptions] and would say that I'm actually the kind of person who has a strong head on her shoulders and has been through a lot in life. I cope with things and get through my day by being strong, and strength is always misconceived by people. Strength can be intimidating to people."
In spite of the criticisms that may come her way, McBride remains motivated to bring about changes within her communities.
"In the next five to ten years I hope to be working with some realm of the government to promote equity and inclusion, this is just what we need. We live in a country that is already extremely divided, and as much as I would like to get on a plane and go to another country that doesn't really have these problems, I really do hope that I can contribute to this society in some way and help improve these areas and pave the way for people who really want to get where they want to go. Someone has to take the initiative to break down those barriers for them, that's the only way I've been able to do the things that I want to do; because somebody else before me broke down that barrier, and so it's about knowing that and working towards continuing that process," said McBride.
By Jamelia Thompson