By Tiarsha Harrison
Darnika "Nika" Platt, is an Atlanta tastemaker and a lifelong entrepreneur who has found success in many roles. After growing up in a small town among a family of business owners, she decided to pursue her own entrepreneurial goals. She owns a tax business, and co-owns both a logistics business and a non-profit for at-risk youth with her husband. With such a busy life as a businesswoman, wife and mother, pampering and self-care are important to Platt. After realizing that men don't have access to the same facilities that women have, including a one-stop-shop for self-care., she started to visualize a community for men to incorporate self-care into their daily routine where they can relax. ManCave Atlanta is inspired by the television show, "Cheers." The upscale spot includes manicures, pedicures, massage and facial suites along with sport and cigar lounges. We caught up with Platt to talk about what sparked the idea for ManCave Atlanta, growing up around a family of business owners, the importance of self-care plus more.
What originally inspired you to create ManCave Atlanta?
It actually started with trying to get my husband to go get his foot and nails maintenance; it was like pulling teeth! He hated going, especially if it meant him missing his Green Bay game. I started "people watching" while at my spa appointments and watched the uneasiness that come over the men as they walked in. Got me to thinking what if there was a place that felt inviting to men, offered them all their grooming services, all in one place because convenience is key. Besides, sometimes we want to have our alone time, so ManCave Atlanta allows men to have their little escape as well.
How are you juggling your many roles as a wife, mother, socialite, and business owner?
I have a great friend named Jessica who is constantly encouraging me and offering me guidance like a big sister. What she gives me is more than advice. She reaffirms my thoughts and lets me know that I can do this. There are many times that I'm not sure of myself but knowing that she's sure of me and is there to help me is all that I need. Like everyone, I get tired, but she helps me push through. I juggle these roles as all women must do, with the understanding that at most times I will not be able to do it perfectly.
What is the most positive lesson learned from growing up around family-owned business owners?
There wasn't one stick out lesson that I learned from growing up in a family of business owners. Learning how to run a business was no different than other kids learning how to drive a car or learning how to wash the dishes. I think looking back now the entire experience was a lesson because there were a lot of people, especially within the Black community who grew up with no clue. Or them, not knowing how to run a business is their normal, so when they decide to become business owners, they're constantly playing catch-up and learning as they go. I received a front row seat to "How to run a business 101."
Do you feel having family-owned business owners in your family instilled a passion, drive and fire for you at an early age? Why or why not?
I wouldn't say that it instilled a passion or drive. When you grow up in a family of business owners it becomes normal. I've been doing taxes since I was 14-years-old. I grew up to own a tax business like my parents. There was no passion or drive in that decision, that's just all I knew. More importantly, I knew that it would make me a lot of money.
With ManCave I have more passion and drive because it's something that I created. I had the vision, I put in the work, and it's a unique business so I have to figure out everything on my own and learn as I go. My parents taught me how to run a business and with that knowledge, I was able to eventually create a business that incorporated my true passions.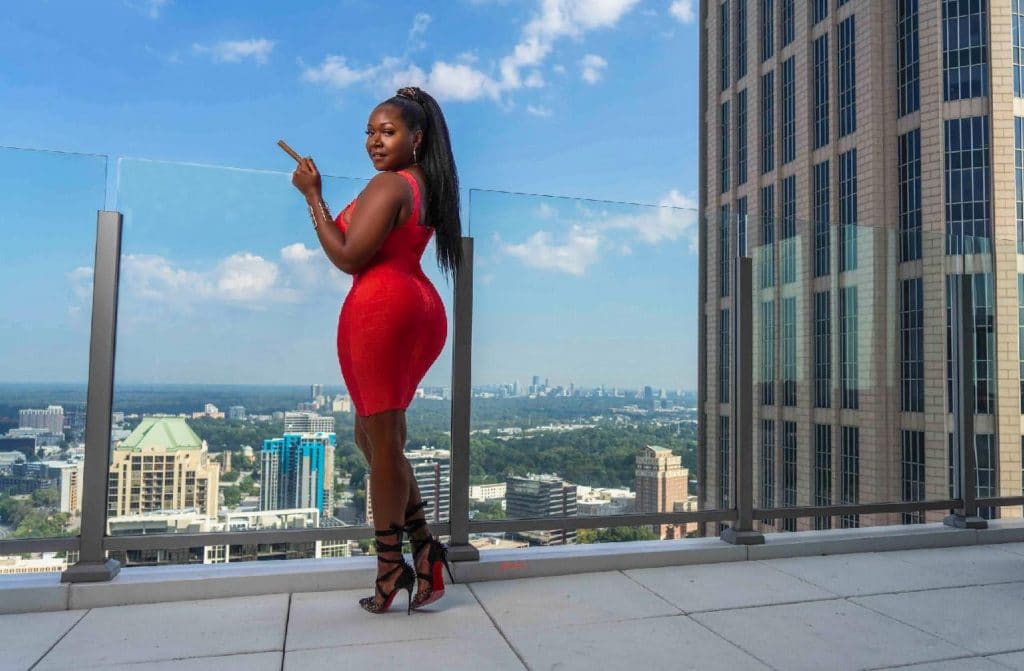 Who is your biggest inspiration?
My family would have to be my biggest inspiration because they were able to build a good life doing what they want and what they love. That's my life now. I'm able to do what I want to do and more importantly, what I love to do.
What causes are important to you?
As a mother, anything involving helping children is something that I care about. And obviously, as the owner of ManCave Atlanta, anything involving the bettering of men is something that is important to me also. We're actually working towards creating partnerships with certain organizations that are affiliated with causes centered around men such as prostate cancer and breast cancer for men.
Is self-care important to you? If so, why?
ManCave grew out of my love of self-care. I'm the girl who frequents spas and nail salons. I love to pamper myself. I love to get massages and facials, and other services. It's my form of self-love and my way of treating myself. I work hard so I deserve to be taken care of. And there's nothing better than the feeling after you get up from the massage table, or how your face feels after a facial. It's perfect that I own a facility that incorporates all of the things that I love.
What are some of your upcoming goals?
We're planning on having events that benefit men not only from a self-care standpoint but events to provide information on starting a business, finances and financial literacy, and wealth building. We want to bring together professional men of Atlanta and allow them a place to network while relaxing but to also grow from their experiences in our facility.
You can find ManCave Atlanta on Instagram @themancaveatlanta, Facebook The Man Cave Atlanta, and Twitter @atlanta_mancave