Malia Obama, only 10 years old when President Obama took office, graduated high school on Friday, June 10th. Malia graduated from Sidwell Friends School, in Washington D.C.
President Obama was invited to speak at the graduation, but denied, claiming he would be too emotional to get through a speech.
Malia was accepted into Harvard University, and will be attending the fall of 2017, after taking a year off. As to what she plans to do within this next year has not been announced.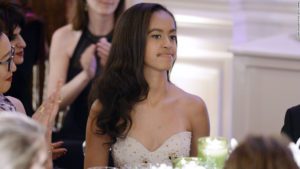 First lady, Michelle Obama revealed to NBC that the decision on where Malia would attend college was a very prominent and pressing matter in the household, "We are talking about this in my household every night, every night. And there's really no magic formula," Michelle Obama said, "It is a very individual decision."
Michelle Obama also revealed Malia's desire to pursue filmmaking as a career. Malia has already completed a couple of filmmaking internships in New York and Los Angeles.
President Obama told CBS affiliate in an interview how difficult it would be to see Malia off to college, "I'm going to miss her terribly. But she is well prepared, she is going to do great things; and as Michelle reminds us, our job is to make sure they don't need us anymore."
By Tiara A. Bryant