"Tell me and I'll forget. Show me and I may not remember. Involve me and I'll understand."
— Native American Proverb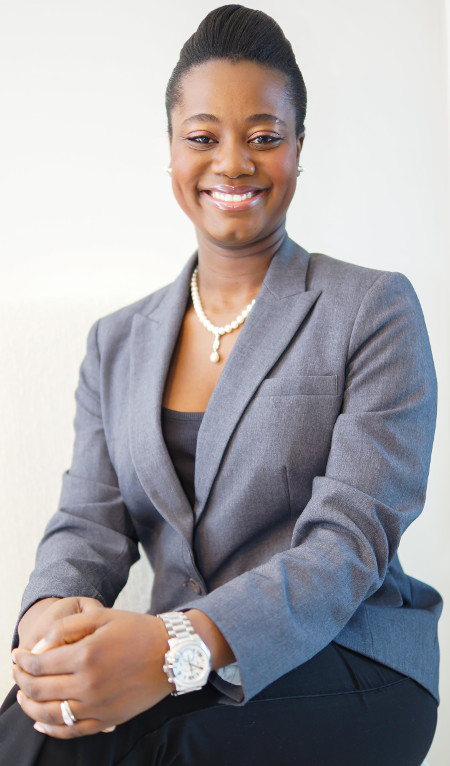 Lynne Gassant is on a mission to help high school students of South Florida overcome the academic, social, and language barriers they face due to socioeconomic challenges in their communities. The Founder/Executive Director of Scholar Career Coaching, a non-profit organization, provides a mentorship program where students can receive advice and assistance with academic achievement, strategies for conducting job searches, interviewing techniques, resume building, finding scholarships, improving English skills, and many more.
We recently caught up with Lynne to discuss her own early educational beginnings and personal education influences, the mission of Scholar Career Coaching and its impact on the South Florida community. Here's what she had to say:
BM: What empowered you to start the Scholar Career Coaching, Inc?
LG: I came to Florida from Haiti at the age of 14 where understanding the language was half of my battle. I struggled throughout middle school yet managed to maintain good academic standing and transitioned to secondary school. Since my parents were unfamiliar with the educational system, it was hard to figure out "what's next?" for my future.
Seeking the minimal available resources, I discovered my first mentor at Boca Raton Community high school, Mrs. Kessler. She understood my personal struggles and became a great friend. She was always available and willing to offer advice and guidance. Maya Angelou once said, "I've learned that people will forget what you said, people will forget what you did, but people will never forget how you made them feel," and she could not be more accurate. With Mrs. Kessler's assistance, I felt inspired and truly capable of greatness despite the challenges I faced. As a result, I received numerous scholarships which permitted my attendance at an accredited university and, to this day, I have maintained a strong relationship with her. She proved that one person can make a tremendous difference.
Following my undergraduate studies, I had a strong desire and willingness to give back to the community and hopefully make a difference. The purpose of Scholar Career Coaching is to help students answer the "Now what?" question. SCC's hybrid mentoring platform assists students by partnering them with college students, graduate students, successful professionals and retirees in various industries. While these passionate volunteers have established careers, many of them faced the same questions, doubts and struggles that their young mentees are currently experiencing. Having traveled similar paths, these mentors are expertly positioned to provide career guidance & encouragement to subsequent generations.
BM: As a first generation college graduate, what inspired you to receive a higher education?
LG: I was inspired to receive a higher education because I did not want to fail myself. A friend once said to me, "The sky has no limit; it's unlimited because we serve a God who has no boundaries," and I couldn't agree more. Opportunities exist for those who are dedicated and determined to pursue them. In the Land of Opportunity, I would not allow myself to be limited as I desired a comfortable lifestyle. Additionally, I wanted to be a role model as I am the oldest and did not want to fail my parents who sacrificed so much.
BM: You've dedicated your career to educate and inspire students to be the best they can be. What has been the hardest challenge you've had to face, and how did you overcome it?
LG: The most difficult challenges were raising awareness regarding the need and recruiting committed volunteer mentors. I have come to realize people like philanthropic projects where involvement is limited to a day, but ongoing commitments require passion. In our mentors, we look for the ability to commit and ability to be there for their mentees without leaving them "hanging." Once we identified these challenges, we changed our approach. First, we began working with high school educators and the students themselves to create awareness. As the ones directly impacted, their determination demonstrates wherein the need lies. Lastly, we began searching for remarkable volunteers, not just volunteers. Our volunteer mentors are the lifeblood of Scholar Career Coaching and our success is due to their professional and academic achievements, passion for education and the various doubts, struggles and challenges they have encountered.
BM: The State of Florida holds many ELL and ESOL program, what sets your ELL program apart from the rest?
LG: Although various mentoring programs exist in the community, their approaches are tailored towards other targeted groups or results such as: young women, reduction in drop-out rates, industry specifications and dysfunctional backgrounds. None of them are hybrid platforms nor do they seek specific schools lacking career guidance, tools and the resources ELL students need to realize their dreams of attending post-secondary institutions or establishing their desired career. ScholarCC is reaching out to many institutions and establishing the groundwork to help these students reinforce the connection between higher education and minimizing the income disparity gap in the community.
Although SCC's primarily focus is on ELL students, all students are welcome. SCC's vision is to serve students in all capacities through mentorship.
BM: What type of success rate has your mentoring program had thus far?
LG: Founded in 2012, we have mentored a total of 75 students. In 2014, 50 Individuals received targeted educational services. We mentored 30 students online and 20 students attended our after school mentoring program. So far, 100% of mentored students rated the program Very Good or Excellent. 93% stated they gained personally from the relationship. 75% wanted more time with their mentor, and 100% stated that having a mentor helped them perform better in school. Check out SCC press/media page to see the impact we are making in our community www.scholarcc.com/press.
BM: How can one become a volunteer mentor?
LG: Potential mentors with a passion and dedication to career development may visit www.scholarcc.com or email their resume to info@scholarcc.com for additional information. A background check is required for safety purposes in addition to an introduction of SCC's mentorship program policies and procedures for the online or after school mentorship platform.
BM: What are some of the ways in which people can help with the SCC mission?
LG: Currently, we are seeking financial support which would allow SCC to provide scholarships, host educational workshops, and continue improving our after school and online mentorship programs. Additionally, people can help sponsor a student to college, use Goodsearch.com for online shopping and recycle empty inkjet cartridges in cooperation with Funding Factory. To donate, visit www.scholarcc.com/donate
BM: If you could give women one tip on how to start a business, what would it be?
LG: Stay passionate and be persistent. You have to treat your business as a new born baby and allow it to grow. Success will not happen overnight but if you keep pressing forward, and sincerely believe in what you are doing, then it will happen.
BM: What keeps you up at night?
LG: My desires and goals keep me up at night. I am a driven person so it is not uncommon for me to finally go to bed at 2:00 or 3:00 a.m. following various projects, brainstorming and evaluating my goals.
Connect with Scholar Career Coaching:

Website:www.s cholarcc.com Facebook: @scholarcc Twitter:@scholarcc

by Shawn Chavis