By Jennifer Akotoh
Hey, Bronze Beauties! I'm here with a quick first impression of some products I received from Luxy Bombs, a black-owned, made to order luxury bath and body line set apart by its use of fresh and natural ingredients in all of their products.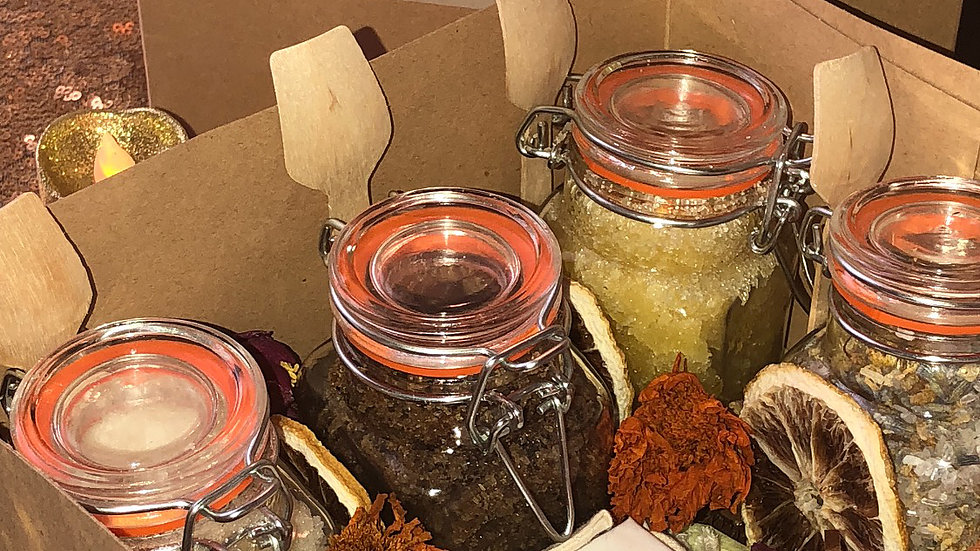 I received the Luxy Bombs Babe Box, which included four sugar scrubs: "Let Me Love You," made with lavender oil and almond oil.  "Dear Summer," made with tangerine oil and sesame seed oil,  "Ivy League," made with tea tree oil and grape seed oil, and "Total Knock Out," out made with ground coffee and macadamia oil. I also received "Goats Milk Soak" and "Crushed," a tea tree oil and rosemary bath soap.
Here are my first impressions:
Crushed: This rosemary infused soap deeply cleansed my skin and made it feel refreshed. I also had many itchy mosquito bites from my recent trip to the Caribbean and I was happy to find that the soap calmed the irritation I had been feeling prior to my shower.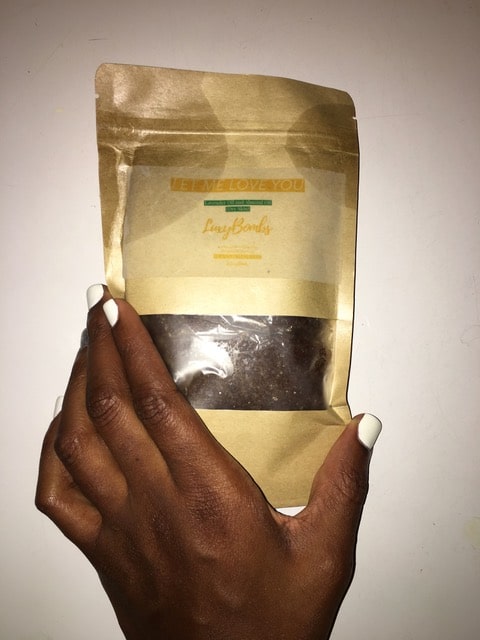 Let Me Love You: First of all, I fell in love with the sweet scent of vanilla and lavender in this scrub! After using it to exfoliate my face, my skin felt so supple, moisturized and rejuvenated. My experience with facial scrubs from other brands is that they usually leave my skin feeling dry and tight as hell. I was impressed that after rinsing off Let Me Love You, I didn't need to use any moisturizer. I will definitely be adding this scrub to my skincare regimen.
Dear Summer: After using Dear Summer, I was taken aback by how much my body was literally glowing. I felt as if I had gotten rid of lord knows how many dead cells to reveal nourished and soft skin underneath. This product will definitely have you looking summertime fine all year round.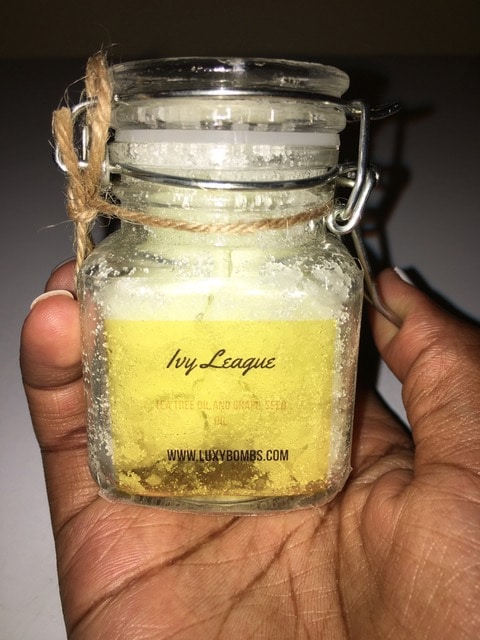 Ivy League: Ivy League smelled so fresh and just like the other scrubs, it made my skin feel as smooth as a baby's bottom. Out of curiosity, I used it as a lip scrub and it gently removed all the dry skin to leave my lips feeling oh so soft and kissable.
Total Knock Out: At first, I was taken aback by the strong scent of coffee beans and was worried that it would linger on my skin. After using the scrub on my legs, they looked radiant, moisturized and to my surprise, I didn't smell like coffee at all and instead smelled sweet like sugar.
Goats Milk Soak: Â After using the Goat's Milk Soak for a footbath my feet felt so soft and relaxed. This product is definitely a self-care must have.
Overall, I loved all of the Luxybombs products and recommend them for anyone who's looking to improve their skin care regimen with exfoliators or looking for natural and great smelling products to pamper themselves with from time to time. Thank you Luxybombs for the wonderful products and for making me an official Luxybombs Babe!