She first stole our hearts in 12 Years a Slave when she poured her soul into her character. She proved her talent in Star Wars as a character whose wisdom was undeniable. She extended her ability in The Jungle Book as a wolf whose loyalty lied with her children and her pack. But what's to come may be her  best yet.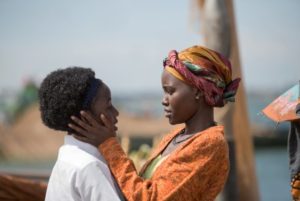 Lupita Nyong'o brings her African roots to the surface in Walt Disney Pictures' upcoming biopic movie, Queen of Katwe, directed by Mira Nair. The movie is adapted from the book "The Queen of Katwe: A Story of Life, Chess and One Extraordinary Girl's Dream of Becoming a Grandmaster." by Tim Crothers. Queen of Katwe follows the life of Phiona Mutesi who lives in the Kampala Katwe slum of Uganda, an East African country. Under her chess coach, Robert Katende, Phiona becomes the national campion. With support from her family, friends, and community, her confidence is unbreakable.
Nyong'o portrays the mother of Phiona, Harriet Mutesi. Alongside Nyong'o , David Oyelowo (Selma) portrays Phiona's chess coach. Phiona herself is portrayed by newcomer, Madina Nalwango, Â for who this film is expected to be the start of a successful acting career.
Click here to watch the movie trailer

The Disney movie was featured in the San Francisco Film Festival back in April where exclusive first look footage was shown to attenders. Queen of Katwe has an awards-season release date of September 23rd for limited launch, and an expansion on September 30th.
By Uchechukwu Nnedinma
Edited by Victoria Krute
Layout Design by Renita Singleton