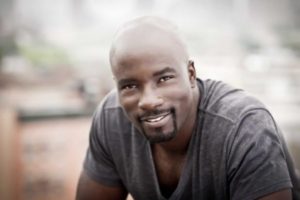 Netflix has done it again. They were behind the two seasons of Daredevil and Jessica Jones, and now they've got another great show under their belt. Season one of Luke Cage Premiered on Netflix on September 24th.
Luke Cage (Mike Colter) is another superhero from the Marvel Cinematic Universe who isn't that well known. Luke Cage was introduced in Jessica Jones. Jessica is shown spying on Luke. And it is revealed that they are connected through his deceased wife. Jessica was the one who killed Reva while under the control of Killgrave. Jessica has felt guilty about Reva's death and watches Luke in her spare time. Luke and Jessica also shared a few intimate moments before he learns about her past and works to help her stop Killgrave.
Luke Cage then moved to Harlem looking for a new start at (his father-in-law) Pop's barbershop. Luke Cage is an action packed drama that shows the grit of the Marvel world. The show allows for viewers to get to know Luke Cage as a true hero outside of helping Jessica Jones. Viewers see his reluctance to become apart of the superhero world. But as he sees what's going on in his city, he chooses to fight back. It displays his character and shows him become "Luke Cage," While also peering into his past as a former cop named Carl Lucas who was framed and wrongly convicted.
Luke Cage is the first black superhero to have his own television web series. Luke Cage shows the realness of Harlem and the black community it holds. It focuses on the crime in Harlem and shows how amazing the idea of "a bullet proof black man" is. With his past coming back to attack him, Luke Cage is the black man with super strength and unbreakable skin that is set on fighting to protect Harlem. In the series, Luke's enemies are Cornell "Cottonmouth" Stokes, the many minions that work with him, and Willis "Diamondback" Stryker.
All 13 episodes are dripping with Harlem's culture, from the places involved throughout the show, to the words that the characters exchange, to the music selected for each scene. It's the grit that makes this show feel so real. If Luke Cage wasn't "bullet proof," audiences could've thought it was a true crime drama. This addition to the Netflix selection is a must-see.
By Kadisha Kentish