by Dr. Blessing Anyatonwu, D.C., M.S.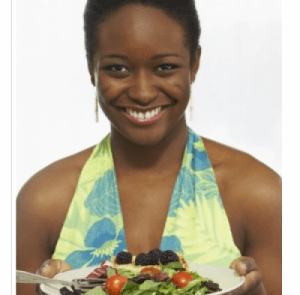 Heart disease is the number one killer of women and African American women are at a greater risk for heart disease than any other ethnic group. Major risk factors for heart disease include: high blood pressure, high cholesterol, physical inactivity, diabetes, obesity, smoking, unhealthy diet and family history. Heart disease can be prevented by making simple lifestyle changes. This February and year round, love yourself by taking care of your health and your heart.
Exercise
One of the most cost effective ways to take care of your heart is to exercise. You probably think that regular exercise may over work your heart but in reality inactivity puts more strain on the heart. The heart of a physically active person is more efficient in pumping blood, better conditioned and works less to   get oxygen and nutrients to the body. The heart rate of a healthy, active person beats from 60 – 70 beats per minutes when compared to the heart rate of an inactive person, whose heart rate is 80 beats per minute or more. The slower your heart beats the easier it is for your cells and tissues to absorb nutrients. Exercising also allows the heart to produce natural endorphins and keep blood vessels healthy.
The best was to keep your heart healthy is to give your body the nutrients that it needed to function; the following foods are great for heart and overall health.
Soluble fiber dissolves in water and forms a gel that binds with extra cholesterol in the digestive system before it can enter the blood. It helps reduce total cholesterol, triglycerides; balance blood sugar levels and makes you feel full faster. Soluble fiber in the form of oats, barley, bananas, psyllium husk, carrots and legumes.
Fish oil is a wonderful anti-inflammatory and can be found in fish, flaxseeds or supplement form. Omega-3-fatty acids lower blood triglycerides and raise good cholesterol (HDL) levels. You can take a total of 3000 mg a day of fish or 2000 mg of fish oil supplements. It is easier to get and absorb omega-3- fatty acids from eating fish. If you are taking an anticoagulant like Warfarin, talk to your doctor or pharmacist before taking fish oil supplements and eating natural blood thinners like garlic.
Garlic contains allicin, a compound that slows the hardening of arteries and slows the development of atherosclerosis. It is released when garlic is cut and inactivated by heat and cooking. It helps lower levels of LDL and triglyceride levels.
 Pistachios contain antioxidants and heart healthy fats; they help decrease cholesterol levels by lowering LDL and increasing levels of HDL. These nuts are rich in plant proteins, unsaturated fatty acids, dietary fiber, minerals, vitamins and phytosterols. Pistachios have more antioxidants than other nuts.
Manage your stress levels.
High levels of stress increase your body's production of cortisol, which raises your blood pressure, putting extra strain on your heart.
We all know that Valentine's Day is coming up and it is another time to indulge and be spoiled by your loved ones. A great way to indulge and treat your heart is to find healthier options.
Valentine's Day Swaps
Instead of milk chocolate try dark chocolate instead, it can be used to dip fruit or eaten alone.
Instead of going out to a restaurant and eating a meal that high in calories and unhealthy saturated fats , stay in and cook a heart healthy dinner for two at home.
Instead of worrying about not having a Valentine, love and celebrate you and your loved ones.
How do you plan to have a healthier Valentine's Day?
Dr.Blessing Anyatonwu is a health advocate, speaker and health care professional that believes that prevention is the best medicine. She is in private practice in Austin, Texas and provides nutritional counseling for clients through email and Skype.
She works with clients who are tired of being told that drugs are the only answer to their health problems and helps clients come up with individualized plans for their health success.
Send questions, comments and nutritional counseling inquiries to info@earnestholistichealth.com