by Jo Jo Harder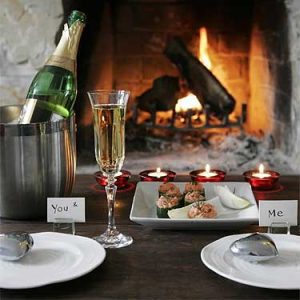 Love feasts have been around since the beginning of time. The magical properties of certain foods have been immortalized in song and verse.
Whether you are planning a romantic Valentines dinner or honoring a special friendship too treasured to go uncelebrated, here is a list of foods that will capture a dear one's heart and soul.
Asparagus: nibbling is said to produce aphrodisiac effects and was used in past centuries as a cure for many disorders, including infertility. This vegetable is packed with nutrients needed for healthy hormone production, including vitamin E which is great for your skin. Cooked until almost tender and topped with lemon butter, asparagus combined with steak or scallops makes a fantastic, feast.
Caviar: and romance, go hand in hand. It is high in zinc, which stimulates the formation of testosterone. Zinc also aids in the proper function of the immune system, reduces stress, and aids digestion. Keep caviar chilled and serve on lightly toasted, buttered bread rounds. Pair with champagne or vodka.
Champagne: is viewed as the universal drink of love. A glass or two of champagne can lower inhibitions and please your heart's desire. Make a toast then wish upon a star!
Chocolate: ranks high among love's food groups! It contains a sedative which is relaxing as well as a stimulant that increases activity and the desire for physical connection. Classic fudge sauce served over strawberries and creamy nuggets of cocoa-dusted truffles both have a special place in chocolate lover's hearts. And, all it takes is a heart-shaped cutter to turn homemade brownies into Valentines.
Escargots: piping hot smothered in bubbly garlic butter sauce, with slices of crusty, French bread and a glass of champagne are the secret ingredients for seduction. End this simple but elegant meal with raspberry sorbet topped with fudge sauce.
Oysters: allure is unmistakable! Start out with a winter salad followed by oysters on the half shell. Serve them with a wedge of lemon or lime and hot pepper sauce. End this delectable spread with honey fried figs and cream fraiche.
There's no better month than February for women to toss their cares aside and follow their heart. Celebrate with a love feast that incorporates a total memorable experience. This can be accomplished by creating ambience with candles, roses, and a table set with fine linen, china, crystal, and silver or goldware.  If you have a fireplace, set the table in front of a blazing fire. Chill the champagne, dim the lights, put on relaxing music, and sway ever so gently to your favorite songs.