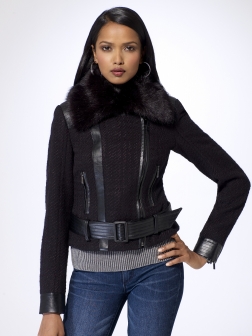 During the winter months, it is habit for most of us to revert to our same old drab wardrobe, allowing ourselves to be swallowed by wool sweaters and losing our figures in oversized down winter coats. Here are some simple tips to get you through the winter months while still remaining your stylish self.
Find a coat with a shape.
Just because it's cold outside doesn't mean that you have to wrap yourself in an oversized winter coat. Leather jackets and cropped jackets are perfect to throw on for a night out with the girls. Belted trench coats are perfect for work and the colder days of winter. Remember, women's outerwear is an investment. Be sure to find a coat that is stylish and something that can work with any outfit.
It's all about the boots.
Boots are a girl's best friend during the winter. They keep you warm, are slimming on the legs and look great with skirts, dresses and pants. Purchase colorful legwarmers and fold them over the top to change your look with your outfit.
Dare to wear leather.
Leather is one of the hottest looks this season and is the perfect way to spice up your winter wardrobe while still staying warm. Pair a cashmere sweater with a leather jacket to give yourself an edgy look or dare to be bold with a pair of leggings that have leather detailing up the side. From outerwear to dresses, leather accents are the perfect look for the winter.
Scarf season.
'Tis the season to let scarves take center stage. Traditionally, scarves were only worn to keep our necks warm during the cold months. Now however, scarves are used as an extension to your outfit. Bring out your wild side with a leopard print scarf, or dress up a plain top with an embellished infinity scarf.
This article was written by Caché. Caché is a specialty retailer of fashionable women's clothing for the style-conscious woman. Visit Cache.com for these stylish looks and more today.