The best decision I ever made was with my heart and not my brain. On April 3rd, 2015 on a fiercely windy day, I hiked to the top of a mountain at sunset with a man I had known for two exciting months. At the top I agreed to be his girlfriend despite the inevitable long distance we would soon face. I was in college and about to do an internship several states away. Perhaps even more challenging was the knowledge that once I graduated we would still have a long distance relationship. It wasn't a decision I took lightly, in fact he was ready to ask long before I was ready to commit. My worries stemmed from the relationship horror stories about distance, the complications, and the unique challenges. Today, I'm happy to say I've learned that it can be a great connector for those willing to…well, go the distance.
Long distance relationships aren't as rare as you might imagine. The newest statistics from The Center For the Study of Long Distance Relationships are from 2005 and indicate that approximately 3 million spouses in the U.S were participating in long distance relationships (for reasons other than marital issues) at that time. Many of these couples fall into the category of "commuter couples," couples experiencing distances because of work. Of course, those particular statistics only pertain to married, heterosexual couples. According to the 2013 Journal of Communication, as many as 75% of college students have also been in a long distance relationship.
At the beginning of my relationship I found a book that really helped me navigate the relationship called The 5 Languages of Love by anthropologist, marriage counselor, and author Gary Chapman. In Chapman's book he discusses the five ways in which couples express and receive love; these five ways as detailed by Chapman are words of affirmation, acts of serve, receiving gifts, quality time, and physical touch. Although everyone participates in all these ways of showing love, Chapman believes we each have our own preference for giving and receiving love. Problems can arise when couples do not understand the love language of their partner. Challenges also occur when couples are forced to step outside their usual ways of showing love, a standard trait of distance.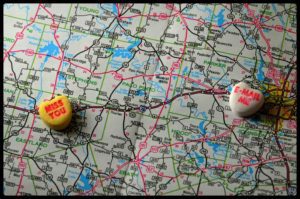 It just so happens the copy of Chapman's book I picked up was the special Military edition. Although my boyfriend and myself are not members of the military, Chapman's The 5 Languages of Love: Military Edition book focuses a great deal of attention on distance. The book stands as a reminder that distance can often force us to develop our underdeveloped love languages (such as words of affirmation for example), while other ones are less available to us in that moment (like physical touch.) Finding the right way to show our love can be difficult as it is. As Chapman narrates, "We tend to speak our own love language, to express love to others in a language that would make us feel loved. But if it is not his/her primary love language, it will not mean to them what it means to us."
Crystal Jiang, an assistant Professor of Communications at the City University of Hong Kong has been researching the difference between long distance and proximate relationships. She admits that America in particular tends to take a negative view of long distance relationships but needn't feel this way. Jiang explains, "Long-distance couples try harder than geographically close couples in communicating affection and intimacy, and their efforts do pay back." Her research indicates that those couples in long distance relationships tend to communicate more frequently and have deeper conversations than those with the luxury of physical proximity. This supports Chapman's finding that distance often encourages us to enhance some of our love languages.
On February 2nd, 2017 I'll have known and loved my boyfriend for two years. Without the challenges of distance I can firmly say our communication skills would not be at the level we have reached. Distance with the right person can be a blessing in disguise. I encourage everyone to love as if they are in a long distance relationship, faithfully, engagingly, and with the utmost effort.
Photo Source: http://theblahqueen.com/wp-content/uploads/2013/07/long_distance_relationship.jpg
By: Bethany Thomas