By Shawn Stuldivant
When I created the Bronze brand, I used my own personal and professional values of positivity, inspiration and being supportive of other women to construct its foundation. So it's no surprise that we tend to connect with other brands who share the same core values. When I was introduced to the lifestyle brand KLSDESIGN CO, a woman-owned company committed to creating bona fide apparel & goods for all, I was excited to collaborate with them. With a mission of cultivating positivity and inspiration, the brand recently launched an amazing new line of clothing called the, "Be A Good Human" line.
The line includes apparel for women, men and kids. I love wearing graphic tees with positive messages, so I wanted to do something a little creative and fun with their new peach colored tee. This makes a cute casual outfit for running errands during the week or on the weekend. And with the fall season upon us, just throw on a cute sweater or a light jacket and your good to go. I love to collect cute, girly sneakers and I just so happened to have a pair in a peachy color by Calvin Klein. Perfect combination!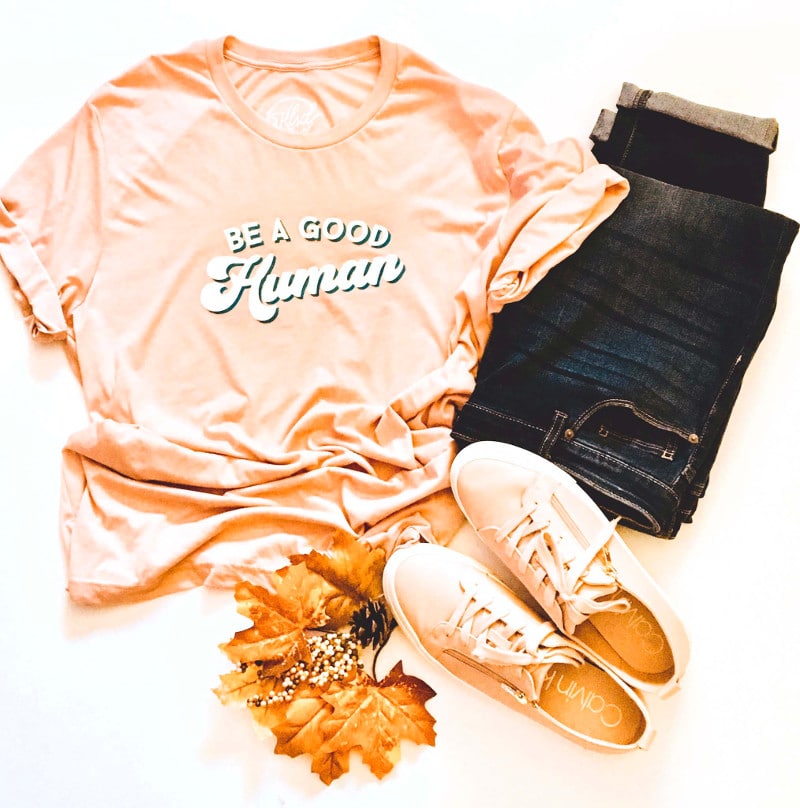 I've always loved playing around with women's fashion but for the very first time, I decided to try my hand at creating something for the guys. So, I went into my husband's closet and pulled out a few key stylish accent pieces to go with the their men's crew neck sweatshirt in black. Not bad, right?
If you aso love wearing clothing that makes a positive statement, then I encourage you to check out KLSDESIGN CO's website at https://www.klsdesign.co/