by Destiny DeJesus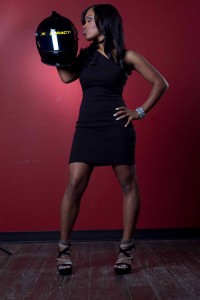 Who said racing is for guys?  If there's anyone who has a taste for speed and competition, its Tia Norfleet, the first and only African-American woman NASCAR driver.
As the only daughter of Bobby Norfleet, a famous race car driver, Tia Norfleet was surrounded by the sport as a child. Norfleet's earliest memory of driving was at the age of five when her father bought her a Barbie corvette and replaced its batteries with two car batteries to increase it's speed.  From that moment on, Norfleet created a hobby.
As a child, she did not always dream of becoming a professional driver. Norfleet dreamed of becoming a professional singer instead. "I could sing before I could drive," she said. The more Norfleet was around the track, the quicker she fell in love with racing.
As Norfleet got older, she soon realized that she wanted to make a career out of racing. When asked who her inspiration from the racing world was, Norfleet quickly answered "My father and Mr. Wendell Scott, the first African American NASCAR driver". Norfleet also mentioned that her mother, who she says "taught her to love herself", has been a great influence on her.
Norfleet had to pass a specific criteria just to receive her racing license in 2010.  Due to the economic downfall, receiving sponsorship was very difficult but Norfleet made it through the rough times and she is now a driver for her father's team that races in NASCAR. "I don't dwell on the fact that I am the first and only African American woman NASCAR driver," Norfleet expressed "It just happened and I'm a driver just like any other driver."
Norfleet is the type of woman who does not let stress take over. "The hardest part is being disappointed by people who promise you things and come to find out, it's all lies," said Norfleet. "For that reason, I don't believe everything people tell me."
Aside from the struggles, Norfleet is making a huge difference in the lives of many people.  Norfleet is involved with the Driven to Read program which helps children learn the importance of reading. Along with the program, Norfleet is working on creating a comic book series to create a fun and educational way to help children. She is also involved with several other organizations and is striving to help reduce racial disparity as well.
"I have this opportunity and I use it as a platform," Norfleet said. "I'm opening a door to others to do things out of the norm. I take it as a lesson."
To make a donation or become a sponsor, visit tianorfleet34.com or burnoutmotorsports.com.
Also, add Tia Norfleet on Facebook and Twitter @tianorfleet.