By Farren Washington
Lexi P. is the creative mastermind behind the innovative Curlanistas brand. At 16-years-old, she's already achieved more than people twice her age as a hair care entrepreneur, author, independent publisher and sought-after motivational speaker. However, the journey to success does not come without hard work, a focused mind and dedication. For Lexi, it was a matter of "do-whatever-it-takes" attitude that got her thus far in her career of entrepreneurship. We spoke with Lexi about her business, personal hair care journey and ultimate vision for the future of her brand.
According to the Gen Z wunderkind "I started Curlanistas as a movement to go with my first book 'Curly Girls Love Your Curls.' I came up with the name and everything. At the beginning, my mom tried to steer me away from it because Curlanistas is not a real word, but I really wanted that name and am glad I kept it. I wanted to develop my brand to help girls like me with big curly hair." The struggle of learning to love herself was the inspiration behind the name. "You know how the term fashionistas is used for people who love fashion? Well, I wanted Curlanistas to be for girls who love their curls. I wanted girls to embrace who they are; to love their hair, and feel empowered to wear their hair, big, bold and proud." Lexi was teased a lot when she was younger and wanted to help out other girls who were going through the same struggles she went through. She taught girls how to love their hair with her books (the second one being "The Ice Cream Talk: Loving the Skin You're In") and that eventually evolved into developing her own unique line of hair care products. She officially launched the Curlanistas hair line in February 2018, but did a soft launch at the world famous Bronner Brothers Convention in Atlanta back in late 2017. Products include: The Magic Curl Defining Custard, Magic Frizz Fighting Detangler, Magic Curl Cream and Detangler Brush Set. All have sold like hot cakes, especially in the Atlanta market. The company also offers ponytail extensions such as the Kinky Blowout, 4c-4b Kinky Curly, 4c Afro, and 3b-3c Curly Curl. As of early 2021, Curlanistas has grossed over $90,000 in sales and moved over 100,000 units of products. Quite an impressive feat.
As a young entrepreneur, what motivates and drives Lexi is knowing that she's not just selling products, but helping other girls build self-confidence. "Knowing that I'm helping other girls feel good about themselves gets me motivated every day. Representation really matters and having young girls see me as a role model makes me want to do and give it my all. I get emails and DMs from parents thanking me for my brand and my mission. This truly means the world to me." What makes her business unique is that it is for kids and created by a kid. She knows how hard it is for moms and kids to bond during the hair styling process, and her products offer the perfect solution to bring them closer together.
Lexi's personal hair journey was truly one of self-love and hair breakage. "I really hated my naturally curly hair when I was younger and always wanted long straight hair like the girls I saw on TV. I attempted to flat iron my own hair and damaged it really badly. My parents and other family members encouraged me to start wearing my hair curly after that particular incident. I followed their advice and got so many compliments. For the first time ever, I felt pretty. During this time, I was just getting started on YouTube and saw others loving their natural hair and the rest is history. Now I hardly ever straighten my hair, I love my curls so much."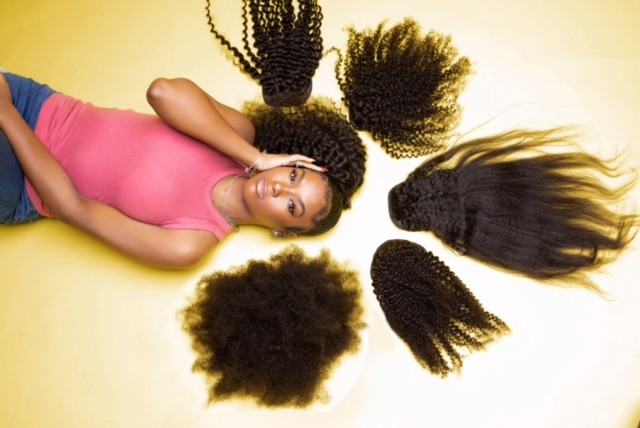 When asked about the company's new "Embrace Your Texture" campaign, the Washington D.C. native responded, "I truly believe natural hair has not been embraced or celebrated enough. You know there is an issue when the government has to put laws in place to prevent race-based hair discrimination. African Americans are the only group of people who have to deal with these issues. The media often puts out an image of beauty that doesn't look like us. I want to change that and challenge those preconceived standards. I want all hair types to be celebrated and loved." Lexi believes that we must continue to show black excellence and also create our own lanes so we can provide opportunities and jobs within our own community.
Starting a new business can be a daunting task. Many new entrepreneurs are simply overwhelmed by all the things they are expected to know. "I believe there are four key elements to running a successful business. 1) Identifying your customer. Understanding who your customer is and what problems you can help them solve. 2) Understanding the distribution process: mainly how you'll distribute and sell your product. This is major, because you need to determine what will be the best platforms for your products and/or services (Amazon, eBay, Etsy, your own website, etc.) 3) Customer Relationships: how you'll create demand, keep customers coming back for more and make them feel like they are part of the brand. 4) Marketing: you must have a good marketing strategy to help grow and keep bringing awareness to your business."
In August 2019, Lexi launched the Curlanista BOSS Network, a youth entrepreneurial program dedicated to nurturing 1,000 young beauty moguls under the brand. She has also been featured in Black Enterprise, Essence Magazine, Good Morning Washington, and V-103 Atlanta. She partnered with Verizon to promote youth careers in STEM/entrepreneurship and is a long-standing member and mentor of girls through Girl Scouts of America.
"My ultimate vision is to make Curlanistas a household name. I want my brand to be the go-to products for hair care. I also want to start hosting Curlanista festivals and hair showings; a large event for the entire family to learn how to care for their natural hair. I would have live demos and classes using my products and also utilize my platform to help other small businesses." The future looks bright indeed for Lexi P.