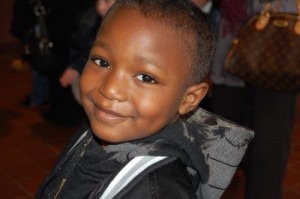 There are some stories that deserve to be followed up on, and this is one of them.  Last year, I reported on a heartfelt story about Luis Danvers, a little five year old boy who was diagnosed in September of 2009 with Acute Lymphoblastic Leukemia.  At the time, Luis' mom Sharon Turnage was seeking people to come out and take a swab test for a local bone marrow drive in Luis' honor.  I saw the story on the local news and it touched me so much that I wrote an article about it.  Sharon saw my article and made contact with me out of appreciation for my sharing Luis' story with others.

Flash forward one year and Luis is now six years old.  He is still undergoing treatments for his disease while his mom Sharon continues to diligently seek a donor match and spread education about Leukemia. Recently,Sharon and I shared a warm and inspiring conversation about compassion, love, thankfulness, and most of all hope.  We also talked about how her non-profit 501c3 organization, the Luis Danvers Leukemia Fund (LDLF), is helping Luis and as many people as possible with their fight against Leukemia.

All it takes is a simple swab test to see if you are a match to donate bone marrow in order to save a life.  There is a critical need for marrow donors, especially in the African American community.  There are 8 million people on the Be The Match marrow registry, but only 7% or 600,000 are African Americans.  In order to bring more education and awareness to the importance of becoming a donor, LDLF recently kicked off the "Give Thanks Give Hope" Campaign, a countrywide drive to help register people for the bone marrow registry operated by NMDP .  Luis is not yet at the point of needing a transplant; however, his mom believes it is important to start adding people to the registry NOW to be prepared for finding a match if needed.

In order to show the importance of becoming a donor, LDLF has teamed up with Genesis Dance in Rosedale, NY (Founded/Directed by Kysha Barnett) to create a PSA announcement titled LDLF 5 Senses.  The meaning of the title signifies that we all have five senses- eyes to SEE, hands to TOUCH, mouth to TASTE, ears to HEAR, and nose to SMELL…You also have a HEART! Have a HEART to HELP! Help us HELP Luis!
Did you enjoy this article? Please take a few moments to complete our very brief survey.  Click here for the survey.  Thank you!!!