by Destiny DeJesus
As women, we put ourselves to the side and worry about everything and everyone.
All of this changed on Saturday, February 23 when ladies from around the country gathered together to say "I Do" to themselves.  Leslie Wright, creator of Partiez by Leslie Event Planning Company, hosted a networking get-together for women of all shapes and sizes. The event took place in Brooklyn, New York. Wright hosts Ladies Night In events all over the U.S. and her next stop is Delaware.
The night's event had a wedding theme where the women were able to put on rings and "marry themselves". The concept was for each woman to network with other business owners, laugh, eat, dance and create life long friends.
Special guests included Miss Caribbean USA 2012, personal chef and fruit carver, Esther Zafrani, Laurie Cumbo, a Brooklyn native running for the City Council seat in the 35th District many more.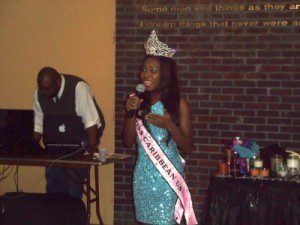 Miss Caribbean USA 2012 was welcomed to the event where she gave a short speech and a few words of wisdom. "My self worth should always be higher than my net worth," she said.
Cumbo mingled with the crowd and spread the word on her goals and aspirations. She had been having nothing but long days and said it's all part of the process. The aspiring assemblywoman stood out with an array of bright beaded bracelets wrapped around her wrist. Cumbo told Bronze Mag that she had just come from an award ceremony in Staten Island where she met a group of young girls who were selling the bracelets. To show support, she purchased over five!
The women enjoyed a buffet of food, had a wobble contest and listened to speeches by several authors and business owners. Esther Zafrani gave a fruit carving presentation where she transformed an apple into a lovebird then presented her "I Do" themed cake.
The ladies said "I Do" to fun and self-exploration at the end of the event during a small ring ceremony. It was at that time when the women chanted the "I DO Vow" by author, Dr. Myra Pearson. They ate Esther's cake and said goodbye to their new peers.