By C. Scott
Collaborative efforts often require multitasking, understanding, teamwork, and dedication. Many are called to collaborate but only a few are chosen for such paths. Five girl moms in the DMV region successfully collaborated with one another under the common goal of sharing inspiration to girls globally. Northern Virginia author, Kristi Guillory Reid, served as a co-author to the new children's book anthology called Dear Daughter: A Celebration Of Love.
"The Dear Daughter children's book will show black girls, and girls everywhere, the power of collaboration. When women unite around a singular goal, nothing can stop them," says Kristi. "The book will also show them that being a girl mom is nothing to take lightly, but it's the best job in the world," she adds. This literary labor of love shows the endless spectrum of love from the viewpoint of five different mothers. Each mom parents their own daughter with love, nurture, and understanding; and saw fit to share those experiences with the world.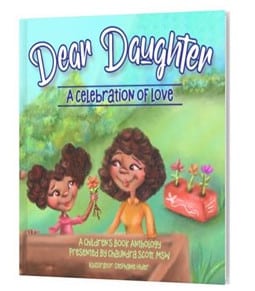 In addition to being a collaborative member of this timeless project, Kristi Guillory Reid also shared about her author goals, motherhood experience, and beyond. Here's what she shared with Bronze Magazine:
What goals are you hoping to achieve as an author?
"I would like to uplift and inspire. I want anyone who reads my words to feel a sense of encouragement and know that they can accomplish their dreams."
In one word, describe your author career?
"Joyful"
Who are your author influences?
"My influences come from a variety of places. I am still an avid reader of magazines and newspapers so I like to see writers who can write a good op-ed that is thought provoking. I enjoy reading Robin Givhan's thought-provoking pieces in the Washington Post where she writes about fashion that elevates the topic to more than just thinking about clothing. I also like the classics in Black literature. I admire how Zora Neale Hurston wrote in a way that employed all of your senses and how she showed that Black women have the power of self-determination."
What motivated you to join the Dear Daughter book collaboration?
"I wanted to show my love for my daughter and to share with others the life lessons that I am trying to impart to her. I had never written anything as part of a collaboration and that idea intrigued me as well. There is power in coming together to achieve a mutual goal and this has been a rewarding experience working with the other ladies on this book."
As a girl mom, what resources and support have you found to be helpful in your parenting?
"My best resource and source of support was and still is my mother. As a girl, your first vision of a woman is your mother. I have developed my style of parenting but incorporate the values that my mother passed down to me. I must admit that I don't read parenting books but I like to rely on those close to me and inquire about their parenting journeys. I find that most helpful."
"My Black Girl Magic will keep on shining and show everyone around me that you can live the life that you want if you put in the work," exclaims Kristi. Her timeless efforts in literature, family, community, and her profession are not going unnoticed. Connect with Kristi Guillory Reid to purchase your book copies, learn of new events, and more by visiting her online:
https://www.harpercountsherblessings.com/
https://instagram.com/kristigreid?igshid=YmMyMTA2M2Y=
Writer, C. Scott, is a mompreneur, authorpreneur, MSW, and blogger. Follow her online as @curls_coils.