by Destiny DeJesus
Katwalk Katerers, LLC, is a fashion events coordinating and talent development training company located in the Bronx. On Saturday, September 29th at the Basic Ballroom located on W. 35th Street, the company hosted their "Kitty Takes the City Fashion Show".  Models of all shapes, sizes and nationalities strutted down the runway showing off the gorgeous attire of over 10 designers.
Before the show began, guests formed two lines, practically merging together, for food and drinks. The event was sponsored by 1800 Tequila. While sipping on the 1800 Coconut Tequila and eating miniature beef patties that were up for grabs, the audience was eager for the show to start.
Beginning fashionably late, the night's host, Catherine Rodriguez, quickly introduced the first designer as the models energetically strutted down the "homemade runway", which was put together by two rows of the audiences seats.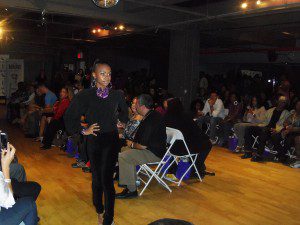 During breaks, Rodriguez prounounced raffle winners and guests were able to check out the different tables of goodies.  Mini Moments, a company that sells homemade body wash, lotion, oils and more was present offering great deals.  Small body washes were on sale, 2 for $5 and gift bags full with body butters, lotions, a sponge and more were available as well.
To sweeten up the audiences pallet, Sweet Treats by Tiqua, had beautiful cupcakes on display. The delicious pastries included coconut Ciroc flavored cupcakes and more.
Models showed off everything from simple jewelry, scarves and hats to evening gowns and shorts and tees by Highly Humble. The crowds energy never died due to DJ Muh Fiya and Bootz who spun the greatest and latest hits.  People got up to dance, sing and socialize while waiting for the next group of models to walk.
Before ending the eventful night were performances by: Crow the Poet, rap artist, The Jack of All Trades LB and pop artist, Storm Marrero. When the crowd calmed down, Dennis and Dhylles Davis, creators and founders of Katwalk Katerers, said their thank you's and acknowledged the designers, models and all who were involved.
To view photos from the event and watch media coverage by, BCAT's Whatz Up New York, visit www.katwalkkaterers.com or www.facebook.com/katwalkkaterers.