By Esha Bargate
Bollywood has a few female filmmakers who rule the film industry. Mira Nayyar, Deepa Mehta, and Aparna Sen are the few filmmakers who have introduced Bollywood to female-oriented stories. Karishma Dev Dube is the next-generation female filmmaker who followed the same path to introduce sensitive stories to audiences. Dube won the DGA Student Film Award and has been shortlisted for the Live Action Short Film "Bittu" at the upcoming 93rd Academy Awards.
Bittu is based on a true occurrence that happened in India, known as the Bihar school poisoning incident. In the film Dube presents the close friendship between two girls, Bittu and Chand. Set in a forgotten Himalayan community, Dube highlighted the day of the accidental poisoning at the school and the events that escalated quickly between the two friends as the turning point of the film.
Dube, born and raised in New Delhi, is a writer/director based in New York City. She came to the United States to attend NYU's graduate film program where she received the Dean's Fellowship.
Along with Dube, the story of Bittu is presented by a strong team of women including Mary Evangelista as producer, and Dube's sister Shreya Dev Dube as cinematographer. Indian Women Rising, a female cinema collective founded by Guneet Monga, Ekta Kapoor, Tahira Kashyap Khurrana, and Ruchikaa Kapoor Sheikh executive produced the film. Dube explained her opinion about the roles of women in cinema saying, "I feel very inspired and it wasn't a decision I made to go looking to only put women behind the camera and on the camera. It kind of magically happened that the people I wanted to work with were all females."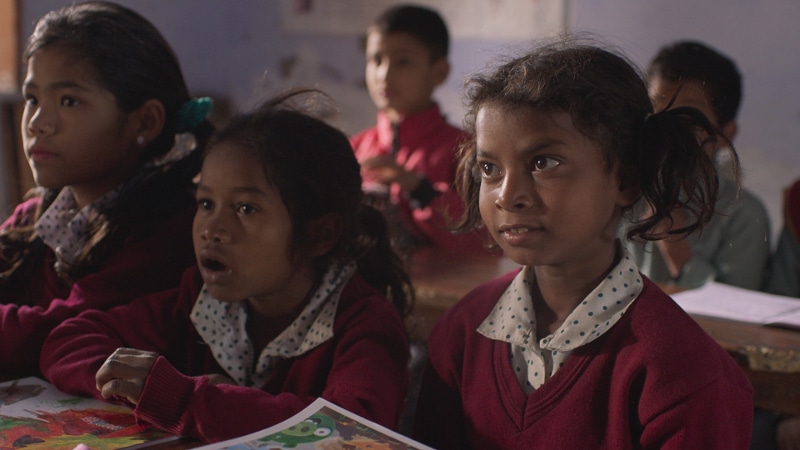 Dube surprisingly revealed she wasn't obsessed with films until she moved in with her sister, where she interacted with screenwriters, cinematographers, and actors all the time. Those interactions inspired her to be a filmmaker. She applied at some film schools and luckily, she was admitted to NYU in 2014 where she has since been writing, directing, and editing films for herself and her friends.
Dube won the DGA student award for Asian American Filmmaker for Bittu. "I made this film with my heart, and I didn't make it alone. I made it with a lot of people. I am proud to represent their work on a great platform," she said.
Dube emphasizes how she was motivated to choose this story to portray the close friendship between two young girls, Bittu and Chand. She wanted to humanize the characters and reimagine their experience behind the main incident. "I wasn't interested in investigating why or how the incident happened so much as I wanted to tell a story about an incident that made me angry, said Dube who crafted the 16-minute movie with a very tight script that captured all aspects of life, portrayed emotions, and addressed social issues and child psychology. Writing the story took two and a half years, during which time she spent learning about the incident. "There were a lot of things I wanted to talk about, and it took me a while to figure out how to say them without being preachy. I wanted to just show the world and all its authenticity. I hoped that all these layers would just come through to tell a simple story with a lot of heart. I'm glad it's resonating with people and in so many ways."
Dube is always looking for a script that pushes social boundaries. "I'm still discovering my style in making movies; I didn't set out to be an "issue-based filmmaker. Things like loss and friendship and love and moral complexity interest me. It's not like I'm trying to send a social message with anything."
Dube has worked hard on the film Bittu which is beautifully crafted with heart and soul.