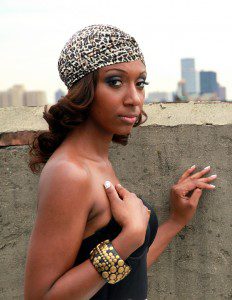 Who is Colette?
Native of South Carolina
Resident of Harlem
Player of alto saxophone and piano
Lover of historical fiction and other nerdery
Singer and writer of songs
These descriptions barely touch the surface of the multi-talented Indie artist. We caught up with the Harlem resident and here's what she had to say about how she got her start in the music industry, her musical influences, the release of her sophmore album titled Juneteenth Revolution, plus more:
How did you get your start in the music industry?
I grew up as a musician, singing in choirs and playing saxophone and keys at school and at church. In college, I sang background for a Go-Go band in Washington D.C., and realized that I loved performing as a solo vocalist. So once I graduated, I moved back home and worked on my debut CD "Experience Collette" which I released independently back in 08′. It was really well received, and I started doing shows all over the place- and the rest has been history (in progress).
Who are some of your favorite artists? musical influences?
My favorites are Stevie Wonder, Jill Scott, Mary J. Blige, Bill Withers, Duke Ellington and James Taylor. They've all been very influential. Amel Larrieux has been a long-time vocal inspiration for me as well.
How would you describe your musical style?
My style is very honest. Almost every story I write is based on a personal experience. It's quite soulful, with live instruments and hip-hop samples, and you can also hear a touch of jazz in the way that I sing. And lately, I've started to spit a few bars on some of my tracks, so there's definitely a bit of emceeing going on.
What is the meaning behind your sophomore album Juneteenth Revolution and what can fans expect from it?
Juneteenth Revolution is all about freedom. "Juneteenth" a.k.a. Emancipation Day is the holiday celebrating the end of slavery in America. My album deals with the different types of slavery people across the world are experiencing today – mental slavery, economic bondage, all types. The songs talk about overcoming that bondage, and also some of my stories on my own evolutionary journey.
What piece of advice would you give to undiscovered artists who are trying to get to where you are today?
I would advise them to work like crazy on honing their sound, and once they've built a strong and loyal fan base through live shows, try to get a really stellar team: manager, publicist and lawyer. Having a great team is what's gotten me this far, so I'm ever-grateful for those folks.
I'd also say know as much as you can about the business and technical aspects of entertainment in addition to your creative mastery. Have fun, be positive, and don't be afraid to bring something new and unheard of to the game.
Where can your music be found/purchased?
My music is currently available on iTunes.com – just search for "Juneteenth Revolution." It's on just about any other online musical retail site (Amazon, Rapsody, etc.). and in the Maryland area available at Kemp Mill Music store. You can keep in touch with me via www.collettemusic.com. Many thanks to any and all who support my art – it means the world to me!
See Colette's video for her first single off of Juneteenth Revolution titled Material Star