WRITTEN BY CHELSEA YOUNG
COVER IMAGE: GABRIELLE REVERE
Judith Jacques, founder of media and communications BLACK STREET and our November cover star sat down with us to discuss her career, goals, and inspiration. Jacques began her career as an event planner for a small boutique firm, eventually gaining enough experience to open her own event planning business.
After receiving a dual degree in Business and Communications Jacques expanded her company to a communications firm specializing in small and minority-owned business. BLACK STREET is an umbrella company founded in 2012 with a mission to uplift the black community by focusing on the arts, education, food, and culture.
Under BLACK STREET Judith has created the Black Celebration Awards, Black Women in Media, and the Black Culinary Coalition. Her work has been recognized and awarded by prominent members of New York State and she will, without a doubt, continue to receive high praise with plans for new platforms to be launched in 2021.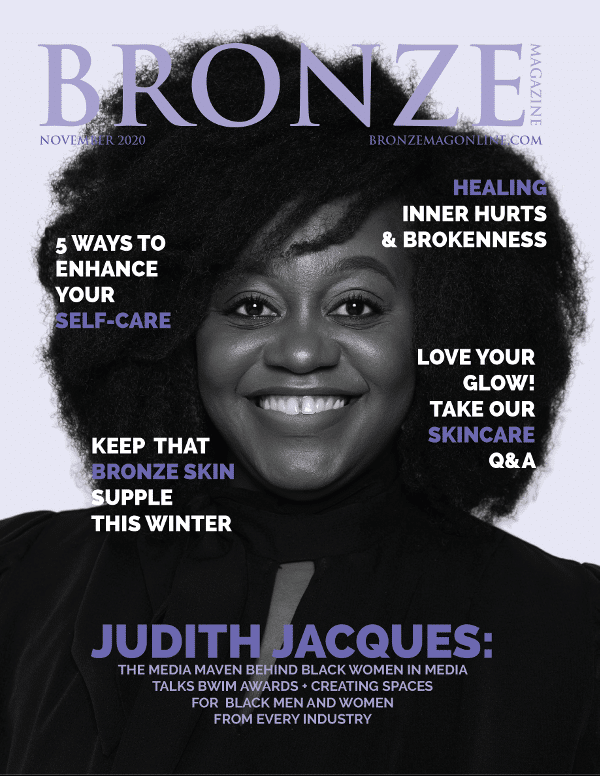 What inspired your drive for entrepreneurship?
I'd say it started with my parents. They were the foundational inspiration behind my drive. As Haitian immigrants, I was in awe at how they were able to build so much with very little resources. My mother specifically, unhesitatingly created or joined any wealth building opportunities.
How did the media become a major focus in your business?
I studied Communications in my Undergrad. I've always had a passion for telling stories. It intrigued me that I can convey a message through controlled outlets such as the media, or influence and sway targeted audiences, and even build a brand through strategic storytelling and identity. Very powerful what these industries can do and I wanted part of it.
Why did you create BWIM?
During my undergrad, I was faced with challenges as a Black woman. Constantly, I'd be in a room in which I was the only Black woman, or Black person for that matter. I would work twice as hard and even three times as hard than my colleagues, but men and women who didn't look like me constantly received the praise for my creativity. They'd even be offered a permanent position, whereas I was told I wasn't considered because I didn't fit with "company culture". I thought long and hard about women like me in the Communications industry, those who were pioneers and paved the way, as well as Black-owned firms. How many of them did women like me know? How many were there even? This is what inspired Black women in Media. I wanted to create a space to celebrate Black women and our many contributions in Communications, Entertainment, Media, & Technology.
How has COVID impacted your business?
COVID forced us to pivot. Our annual conference and awards are held at a physical location in NY. However, due to the climate we are in, we chose to host our event virtually. In many ways, it has allowed us to think of new ways to reach our targeted audience which in fact is proving to be successful.
How are you practicing self-care during these times?
Self-care is imperative these days now more than ever. I make sure to start every morning with 15-20minutes of meditation. I take 15-minute breaks after every 2-3 hours of work. I also treat myself to a bi-weekly manicure and pedicure spa. As well as listen to uplifting and empowering music throughout the day.
What would you say is your greatest professional accomplishment and why?
Creating BLACK STREET. The umbrella to the BWIM, Black Culinary Expo, and Black Celebration Awards. In so many ways I have been given the opportunity to recognize some of the most phenomenal individuals across many industries as well as inspire many others. This is my greatest accomplishment- to empower.
What can we expect from this year's first ever virtual BWIM Con and Awards?
Our virtual expo will launch with a four-day conference entailing panels, speakers, masterclasses, entertainment, as well as segments highlighting Black-owned, and entertainment. Following the conference, on the fifth day, the awards ceremony will honor 20+ women in Communications, Entertainment, Literature + Publishing, Digital + Technology, Media, Television + Film, News + Journalism, and Radio + Broadcast.
Who inspires you and why?
My family. They are the most powerful and resilient people I know. Constantly overcoming the hardest obstacles—never allowing it to kill their beauty. They continue to strive for the very best. This inspires me to push every day in providing a comfortable and rewarding life for them.
Complete the sentence: My Bronze is beautiful because….
I am my ancestors' wildest dreams.
What advice would you give to women looking to break into the media industry or interested in starting their own media business?
Find a mentor within the industry and offer to be of assistance in any possible way. Learn from them all the while increasing your network. One way or another, these very connections will provide many opportunities for you. You have to be willing to put in to get it.
"I strive to create spaces in which we recognize Black men and women from every industry.."
As a media and communications professional, how are you using your power to influence how we as black people perceive one another and the world around us?
This is the very reason I've created the platforms that exist today. To inform our community as well as our surrounding communities of the many contributions in which the Black community provides. I strive to create spaces in which we recognize Black men and women from every industry. In doing so, I hope to destroy negative connotations as well as stereotypes associated with our community.
You can follow Judith Jacques on Instagram and stay up-to-date with Black Women In Media award show to be hosted November 16th-20th.
This article currently appears in our November issue