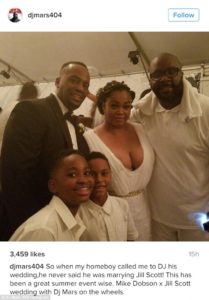 On June 25th 2016, Grammy award-winning singer, Jill Scott, married longtime boyfriend Mike Dobson. Friend of the groom, DJ Mars, revealed they were married through his Instagram profile, uploading pictures and videos from Scott's wedding reception.
DJ Mars told his Instagram followers when the groom asked him to DJ for his wedding, he left out the fact that he was marrying Jill Scott. He also said Dobson asked him to book Big Daddy Kane to perform at their reception, as a surprise for his new bride.
"So, Mike called me and said 'I'm going to surprise my wife during the reception and have Big Daddy Kane perform,"' Mars captioned one of the videos he posted of the wedding. "He then says, 'Mars you call Kane to work it out.' So I'm gassed because I'm on the phone strategizing with arguably one of the best rappers period (top 5 of anyone's list)! Me and Big Daddy Kane on the phone, I'm geeked! No one knew but me and the husband knew he was about to perform. Dude walks in and they didn't even recognize him until he starts rapping. Her face is soooo priceless! #jillscott #mikedobson #bigdaddykane #djmarsapproved."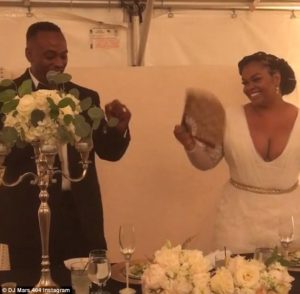 In a video of a toast to his bride, Dobson admitted that he shed a couple of tears when he saw Jill Scott walk down the aisle.
This is Jill Scott's second marriage. Her first husband was DJ Lyzel Williams; they were married for 6 years, and divorced in 2007. She was also engaged and had a son with Lil' John Roberts.
Congratulations to the newlyweds!
By Tiara Bryant
Designed and Edited by Renita Singleton