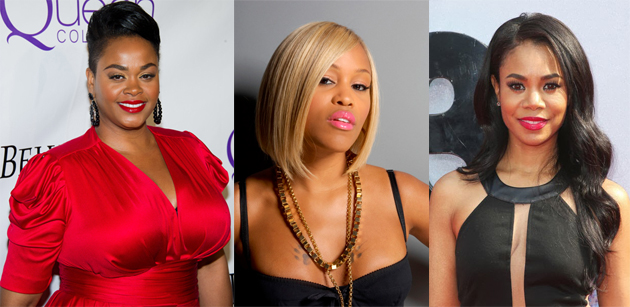 Pictured from left: Jill Scott, Eve, Regina Hall
Jill Scott, Eve, and Regina Hall will be looking for love in a Lifetime movie currently in development titled With this Ring. In the romantic comedy, the trio plays single best friends who are inspired to find love and tie the knot themselves after attending another close friend's wedding. With This Ring will be directed by Nzingha Stewart (The Game), and executive produced by Tracey Edmonds (Jumping the Broom), Gabrielle Union (Being Mary Jane), and Sheila Duckworth (Soul Food).
It appears that the Lifetime network is diversifying it's programming to include black female protagonists in leading roles. With This Ring will join several other recent films the network has presented with a black cast of characters including Pastor Brown (starring Salli Richardson), A Twist of Faith (starring R&B artist Toni Braxton), Betty & Coretta (starring Angela Bassett & Mary J. Blige), and Steel Magnolias (starring Queen Latifah, Phylicia Rashad, Alfre Woodard, and Jill Scott).
by Sarah Greene