By: Tiffany Chisholm @waywardtiff
Overcoming Body Stereotypes and Defying Athletic Expectations
Jessamyn Stanley is an author and yoga teacher who captured the hearts of many via her Instagram account, where can be seen sharing many extreme, flexible yoga poses with her 328k+ followers. She has been featured in multiple news publications for her work as she continues to defy what is expected in athleticism. She is also the 2016 winner of the Shorty Award for Best in Healthy Living.
Yoga classes are usually filled with thin people who appear to be more 'flexible' than people of other body types, but Jessamyn has defied that presumption with her daily practice of the discipline. She ignores body shamers and shows off just how strong the mind and body are when people work hard to adorn their body and accept whatever flaws they may see within themselves. She is one of the many plus sized yogis who is bringing awareness of not limiting your body because of your size or weight. She is working towards ending body stereotypes.
On her Instagram account, she describes herself as an athlete, as shown by her fitness routine and yoga poses on her page. On her blog, she details that her aunt was the person who initially encouraged her to join a yoga class at the age of 16. She completely avoided the practice for a few years after that until she picked it back up in her late 20s. She realized that she was going through depression and was continuously gaining weight. She practices it for mental clarity which also comes with health and exercise benefits.
Her first book titled, Every Body Yoga: Let Go of Fear, Get On the Mat, Love Your Body was released earlier this year. In her book she details her journey from being "anti-yoga" as she so deftly worded it on her blog, to her being where she is today, a world- traveling yoga teacher. She travels worldwide to teach the masses different yoga poses and more about the discipline. She told The Guardian "I feel like yoga is body positive because it's saying you don't need to be concerned about what other people think of you." Yoga allows her to express herself, embrace her body and body type.  She continues to promote body positivity among plus sized women and men alike using her various platforms.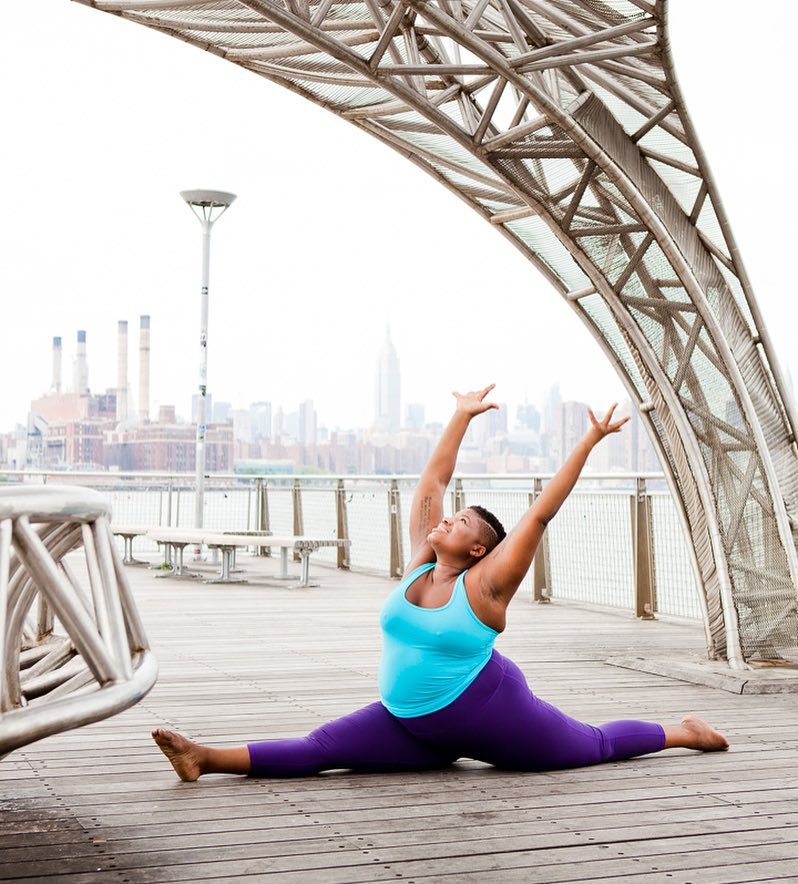 There is nothing better than a woman who is comfortable and content in her skin. She continues to champion that all body types, shapes and sizes can embrace and practice yoga for their own personal stature. Be sure to check out her websites and follow her on Instagram. You may also register for one of her classes here.
All photos are courtesy of Jessamyn's Instagram account (@mynameisjessamyn).