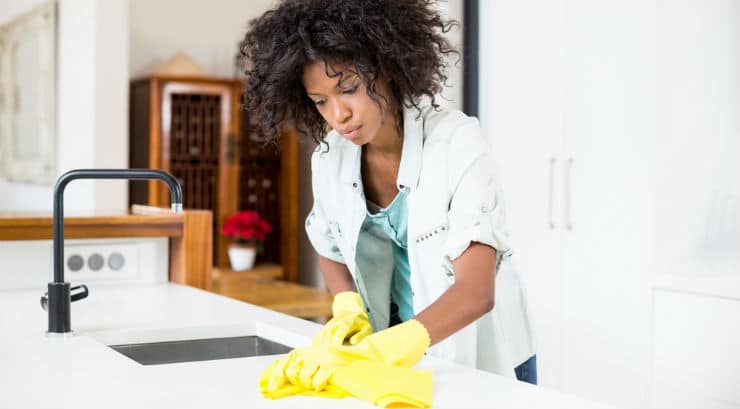 Even though it's not exactly feeling like spring outside, we are in the spring season. And we need to start preparing ourselves for when the spring weather will grace us with it's presence.
One thing about spring, whether it is warm out or not, allergies are still in the air. As a person who knows the feeling of allergies coming back, the weather doesn't deter it.
With that said, a good spring cleaning is in order as the first step towards preparing for spring. And when I say spring cleaning, I don't mean just mopping or sweeping only the areas you can see. Spring cleaning involves moving furniture and wiping down everything that collects dust, you want to eliminate any trace of dust in your home.
Take an entire weekend if you have to and wipe down every surface (cabinets, lamp shades, the oven, picture frames, vases, clocks, small kitchen appliances, etc.), change your drapes, febreeze your furniture, deep clean your carpets, clean out your cabinets (get rid of things you don't use or anything that has expired in your kitchen and bathroom), and every other area you might overlook.
Spring cleaning also applies to your household pet, especially the furry ones. Cats and dogs can shed like crazy and that doesn't help with allergies or dust accumulation. Giving them a good wash and brushing them regularly can minimize their level of shedding. They won't like it but treats will encourage forgiveness.
You can also apply spring cleaning to your closet. Though it is still cold outside, you can begin to minimize your winter clothes by getting rid of the clothes you haven't touched all winter. Because let's face it, if you haven't worn it by now it isn't meant to be in your closet. And you can separate the heavier clothes from the lighter ones, so when it does get warmer you can transition easier. The same goes for your shoes. Besides, why not make room for those spring trends you've got your eye on?
If you know there is clutter in your home, whether it is a wide variety of makeup, accessories, socks, books, etc. now is the time for you to go through those things and see what's worth letting go of. And this isn't just the clutter you keep close by, if you have a storage unit or a crowded garage/attic you'll want to go through those areas as well. Good luck, and happy spring!
By: Kadisha Kentish