Families Who Support Breast Cancer Survivors, Inc. was founded by SFC(R) Keith A. Collins, MBA, on behalf of his beautiful 'SHERO', Mrs. Dorothy C. Collins.  This organization was founded as a support group in January, 2007, after his wife completed her treatment for Stage II Breast Cancer.  After the first week in existence, the group had 40 family members, six months later it grew to over 700.  Exactly one year later, the group was blessed to grow to over 1100 family members.  Today, this organization now has representation on Facebook as fan page and a support group.  The fan page has over 8900 fans from all over the world and the support group has over 1080 family members.  Families Who Support Breast Cancer Survivors, Inc. was deemed an official non-profit corporation by the State of Virginia on February 18, 2010 and is now pending 501c3 status.  Mr. Collins just completed a 28 and half year career in the U.S. Army. He holds a Masters of Business Administration degree in Management from Strayer University and is a board member for Saving Our Youth.
Patricia :Â  After your wife was diagnosed with breast cancer, what were her emotions like as well as yours?
Keith:  Well, as you can imagine, it came as quite a shock to my wife.  She thought that by going to have her Mammogram at age 40, like she had been always instructed to do, she would be fine.  She was asked to return a couple of weeks after her first Mammogram to do an additional one and in the same visit, was asked to do an Ultrasound as well.  A few moments later, I was asked to come back and when I entered the room, the water running down her face told me all I needed to know.  I suppressed a lot of my emotions to reassure my wife that we would get through this ordeal.  Most of the fear of losing my wife to this disease was kept inside for the first two to three years after her diagnosis. She was very upset and very worried because we had two young children and she wanted to be there for them.
Patricia:Â  Was there a history of breast cancer in her family? Â Did your wife have any signs or was it discovered during a routine check up?
Keith:  She had a history of Breast Cancer in her immediate family on her Father's side.  Her Father also died of Lung Cancer. Prior to my wife going to have her first Mammogram, she always did Breast Self-Exams.  She never felt a lump or had any type of pain or discharge from her Breasts.
Patricia :Â  Women need to know that not all Breast cancer is detected by a lump in our breast.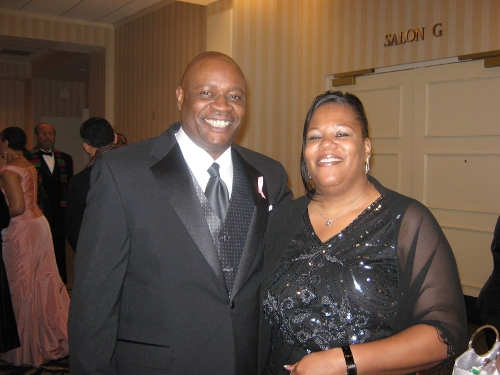 Patricia: You have said you had gone to every single one of your wife's appointments with her? Â How does a family member going through this stay strong for the patient
Keith: If I could have gone through the treatments for her, I surely would have.  Unfortunately, I was not the one diagnosed, so I had to be strong for my wife.  Being positive and being around positive people is the key to beating this disease. This will also test your faith in whatever religion you belong to as well.  My wife rededicated herself to God and the rest is history. The first blessing we received was that the Breast Cancer was caught in Stage II, so after my wife's biopsy, they removed 90% of her Cancer.  Her second surgery removed the remaining tissue and  they also checked her Lymph Nodes to ensure it hadn't spread.  I wanted her to focus on her Chemo/Radiation.  I took care of researching what she was taking and the possible side-effects, etc. 
Patricia:Â Â  There are so many men out there that don't know what to do and some decide to leave their wives but you have been on this mission to support your wife and educate others by starting a Non Profit Called Families Who Support Breast Cancer Survivors Inc. Why do you think some men aren't as supportive as you and choose to move on?
Keith:  The very first thing that should occur if you find yourself in our situation is to pray immediately.  If you're not a religious person, find solace in whatever brings you and your significant other peace.  When you take your vow of marriage, it specifically says for better or for worse.  Then you have to ask yourself as the Man of the House, "What do I have to do to ensure that my wife /significant other beat this most terrible disease?"  If you're scared, it's okay.  I was as well, but you are the best support system that she will have.  By you being positive give your wife/significant other the drive and the motivation to fight this disease with their entire might.  If you're worried about her losing her breasts or something cosmetic, then you really never loved your wife.  If that's your reason for leaving, then you are a COWARD in every since of the word and you will have to answer for those choices at the end of the day.  Our organization came from forming a support group for my wife.  We never thought that it would become the organization that it is today.  I just wanted my wife to be able to speak with those that were battling or had battled this most terrible disease.
Patricia: So let's talk about Families Who Support Breast Cancer Survivors Inc., what is your Mission? Â 
Keith:Â  A Non-Profit Corporation that supports all women and men who have or are battling Breast Cancer and any other Cancer related illness. We educate and provide assistance for those that require it. We raise funding and participate in other organization functions that support this great cause as well and we forever honor those who were not successful in their fight! We celebrate those who are currently SURVIVORS!
Vision-Families Who Support Breast Cancer Survivors, Inc. was deemed an official state corporation in Virginia on February 18, 2010.  This organization was formed from a Breast Cancer support group with just 40 people and after six months, the group grew to over 700.  By the end of 2008, this group had grown to over 900 people and by the middle of 2009; the group surpassed 1,000 family member marks.  Today, this group still has well over 1130 family members on www.minglecity.com, over 1095 family members in the support group on Facebook and over 9,000 fans on Facebook as well.  The organization is led by the Founder/Chief Executive Officer, Mr. K. (K.C.) Andrew Collins and has a five member Board of Directors. Mrs. Dorothy C. Collins is the organization's Ambassador.  This is a new and innovative non-profit organization whose primary mission is to raise funding to provide free Mammograms for women and supporting care for men, that are unemployed or without adequate medical insurance in Central Virginia and beyond.  We also do referrals to other organizations, so that our clients can benefit from a wealth of resources and information.  We want to ensure that if someone is diagnosed with this most terrible disease, that we provide assistance, resources and information for not just Breast Cancer, but all types of Cancer.  This is crucial, so that their caregivers and other friends and family can make sound medical decisions and so we continue to grow our family of Survivors/Sheros'/Heros' for years to come or until God blesses us with a cure!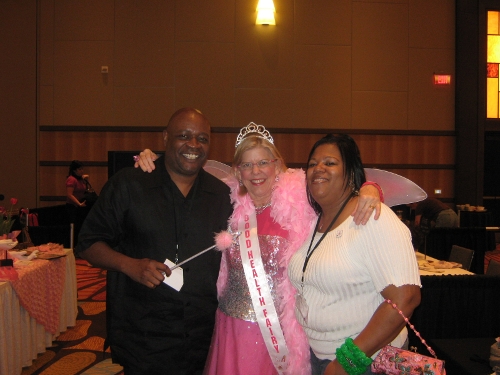 Patricia: Do you see that there are a lot of women out there that don't get the support they should from their significant others?
Keith: Yes, unfortunately I do.  Out of the first 40 women that joined our support group, over 50% of them had a spouse/significant other walk out on them when they found out about the diagnosis of Breast Cancer.  However, that percentage continued to rise when they're spouse/significant other was told that they would lose one or both of their breasts!  I was commended on several occasions for staying with my wife, when all the while; I thought this is what I was supposed to do in the first place.  It was very disappointing to know that all of these women had to endure this battle alone.  Some of them didn't even have immediate family to turn to.
Patricia: You said GOD plays a big role in your commitment to each other as well as how you live your life. Â Do you believe that GOD does answer prayers and that's one of the things that kept your wife so positive?
Keith: After returning home from having her second surgery to remove the rest of the Cancer in her left breast, my wife showed a lot of anxiety and worry.  I immediately helped her into bed and asked her to say a longer prayer than usual.  When I finally went to bed that night, I also did the same.  When my wife awoke the next morning, she looked like a huge boulder had been lifted from her and she looked as if she had never been diagnosed with Breast Cancer.  She rolled over to me and said the she was not going down without a fight and that the Lord told her not to worry from that point on.  Nevertheless, she did just that and went through three months of Chemotherapy and seven straight weeks of Radiation.  She went through it all like the Champion she truly is and is why I will always call her my 'SHERO'!  God is Great!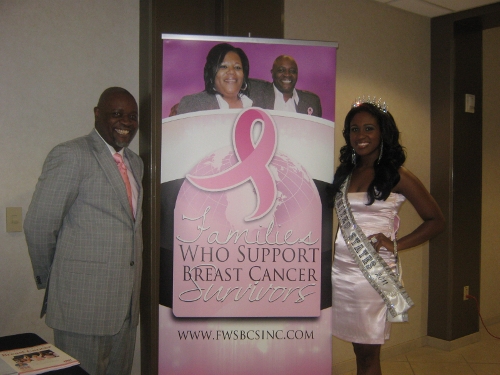 Patricia: Tell us about some of the events you have, for those that would love to learn more.
Keith: In September 2010, we had our first ever fundraiser called a 'Wig Luncheon'. We had one of the local radio personalities as Master of Ceremonies and we had a Silent Auction, as well as great entertainment.  We asked those that attend to bring gently used and new wigs and we donated them to the Massey Cancer Center at VCU.  The Massey Wig Salon was the recipient of our donation of over 80 wigs to assist women who were battling all types of Cancer.  We chose this organization because this is where my wife was treated for Breast Cancer.  We really didn't make a profit, but it was a wonderful event.  This event was held in Richmond, Virginia.
In March 2011, we had an event in my hometown of Detroit, Michigan.  This was our inaugural "An Afternoon of Pink Awareness".  This event was just a way to show those at home what our mission entailed.  Our event stylist, Ms. Stephanie Watson, did a magnificent job and proceeds raise were donated to the Karmanos Cancer Institute in Detroit. You can view pictures/videos of these events at www.fwsbcsinc.com.
Patricia: What can we do to support a woman who just discovered she has breast cancer?
Keith: Even though you may have heard the statistics, know that one in eight American women will hear those words at some point in her lifetime, you probably never thought it would be you. The odds are good that you do not have a family history of this illness. You may well have always taken good enough care of yourself, paid attention to your diet and to exercise, and thought you were in excellent health. The truth is that although your overall good health will help you get through these next months, you cannot protect yourself from developing this disease. You did not develop breast cancer because of anything you did or failed to do. This did not happen to you because in some way you did not take good enough care of yourself. it is not because of where you live, what you eat, the wine you might enjoy occasionally, the exercise you did not do, or the stress of your job or family life. Breast cancer just happens. It is the result of a series of complex biological events that you could not control. No one yet understands what triggers the abnormal cell growth that becomes cancer. But you are not responsible and we will be here for you!
Patricia: How important is it to be proactive with our health and staying positive?
Keith: There are so many things to consider such as what to eat to stay healthy or, what foods to eat staying healthy. Parents are asking, how can teens stay healthy, and how can my young children stay healthy, they are really looking for answers such as what is the definition of wellness or how many people stay healthy.  Be Proactive – Stay well rather then get well with the utilization of the cellular health plan
We are now living in conditions that are far different from that we were designed to live in. The significance of the environmental pollution and toxins that never existed before the year 1930. This pollution causes free radicals into the countless tens of thousands of hits per cell per day in your body and you have billions of cells in your body.  The bottom line is your body is not designed to cope with the amount of pollution and toxins and we have to compensate for this in today's world. Today were getting more free radicals in our bodies can cope with.
Women, as well as men, must check themselves monthly or bi-monthly for anything abnormal around their breast tissue.  Schedule your yearly Clinical Breast Exams, Mammograms, MRI or Ultrasound and take a family member or friend with you.  Exercises regularly, drink in moderation and most importantly, don't smoke!
Patricia:Â Â  Where would you like to see your non-profit 5 years from now?
Keith: We would like to see our social media presence grow to over 50,000 family members and would also like to purchase a Mobile Mammogram Office that we could send into low-income neighborhoods to perform free Mammograms, or even assist those who are unemployed or uninsured with additional medical assistance.  Just so you know, one of these equipped units cost over one million dollars!
Patricia:  Keith Thank you so much for what you do and I am so happy your wife is doing well.  You both are very lucky to have each other and we look forward to following you and seeing all the great things Families Supporting Families are doing
To Learn more about Patricia you can contact her @ Patricia@dapmediagroup.com or info@bronzemagonline.com