By C. Scott
Photos courtesy of Fond Memories by Jackie Hicks
Many people dream of going from idea to self-publishing. The countless notes, brainstorming sessions, and typing adventures are not for the weary. Naeemah Staggs is a wife, mother, social worker, and now she can add author to the list. She recently put action to her dream of becoming an author by joining the anthology experience known as Dear Daughter: A Celebration Of Love.
This children's book collaboration is unique to Naeemah's life as a girl mom. Within the new children's book are letters to girls of all ages to equip them with motivation, inspiration, and reflection. "I wanted to expand my author adventure and continue to push myself outside my comfort zone," recalls Naeemah on why she joined the book collaboration. In one word she even describes this new experience as "surprising" to say the least.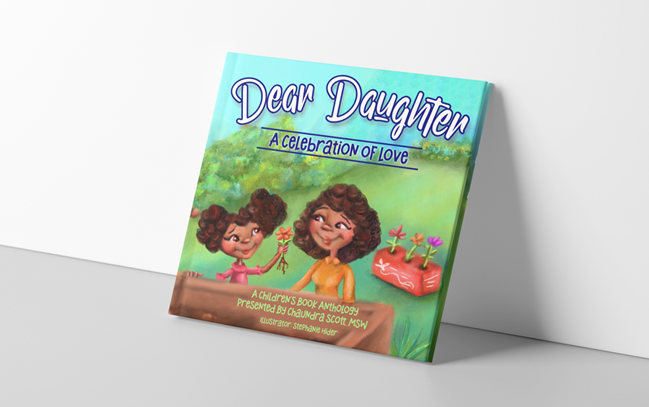 Here's what Naeemah Staggs shared in relation to her author dreams, author inspiration, and more:
What goals are you hoping to achieve as an author?
"I hope to Inspire young minds to thrive."
Who are your author influences?
"To name a few and for various reasons: Eloise Greenfield, Octavia Butler, Tayari Jones, Vashti Harrison and Kelly Starling Lyons."
As a girl mom, what resources and support have you found to be helpful in your parenting?
"The Mocha Moms group has been helpful for me. They can be found on Facebook and within your local communities."
Naeemah Staggs is a wealth of knowledge and inspiration. Her gratitude throughout her unique journey allows her to utilize her tremendous talents for all to see, know, and love. Purchase your copy of Dear Daughter: A Celebration Of Love today. Stay up-to-date on Naeemah's social work experiences, business brands, events, and more by following: https://linktr.ee/ichoosethesun.
Writer, C. Scott, is a mompreneur, authorpreneur, MSW, and blogger. Follow her online as @curls_coils.