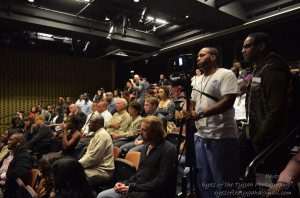 After the shorts there was a sponsored workshop on technology.Many people, especially those in the creative world, do not fully understand the importance and impact technology is having and will continue to have on entertainment.  Much to my disappointment the workshop was not a packed room.  However, the information we received made me almost feel guilty that I obtained all that knowledge for free. Clayton Banks and Bruce Lincoln from Silicon Harlem did an amazing job informing us on the progression of technology as it relates to their topic, "Why We Need To Bring Technology Where You Are."
 The uncanny irony of the topic was where the people should have been and where they were was a perfect tie in to the topic and example on why the music industry got crushed by technology.Trust, ignorance is not bliss and will be very costly if you are caught behind the times.
Clayton and Bruce explained 8 different topics which interrelated and exemplified the natural progression of the concept and new movement within entertainment of TV EVERYWHERE! First, Ubiquitous Entertainment, then Content Everywhere, then the paradigm switch from content is king to data is king and the correlation between data and analytics. The fourth example was storytelling, the fifth was personalized entertainment platforms and how interaction between those platforms is becoming a mandate for successful shows. (i.e. Scandal)  Six was the ability to experience economy /crowd funding. Jut to be clear, by crowd funding they did not mean the sites where you raise money. Rather, they explained the ability to get your audience to help you grow.  All of the previous examples lead us to the final example of technology progression; the cloud. They spoke on the importance of understanding how this is the last frontier and how to monopolize on that as well.  They gave us a wealth of knowledge. Honestly this was the one panel I wish was at least two hours long.
The next movie was another personal favorite of mine.  Not because one of my friends Stephen Hill co-produced it and was a principal in the film, but because the subject matter is dear to my heart. "Stay Cold Stay Hungry" is a film that takes you on a journey of two homeless or should I say, people, who are on and in the streets but aren't street. As rich as our nation is, there is no excuse for homelessness other than capitalist greed.  Everyone should have the security of being able to safely rest their head each night in 0rder to rest their body and mind. Through an interesting discovery, this movie makes you not only appreciate the fact that you have a place to call your own but also opens the door of compassion to those who don't.  WELL DONE!  Another must see from the Moore rating room.
The night ended for me with a brief production meeting with the CEO & Founder of UBCTV and the hip hop panel.  What a panel!  The diversity and knowledge that came from them made me proud to be in their company and to be one of their peers. Far too many times I have attended panels and not seen any productive or applicable knowledge given to the audience.  This panel gave tips, terminology and advice on what artists need to do to be successful in the business of music.  They gave examples of what they are doing wrong as independent artists.  Ant Jones even took about 10 minutes to reprimand the artists in the audience  on the importance of investing in their careers instead of their clothes or sneakers.  Artists will pay over $300 for a pair of sneakers but not $100 to pass out their cd to industry executives that they will never see unless it was at this event.  Amazing!  Remember: You are only as good as who knows how good you are!  If a bunch of the wrong people (who can't do anything for you to advance your career and are not investing in you)  know you but only one of the right people know you (that can secure a deal for you, invest in you and advance your career) which one of them is the person you should know? The panel's summation; invest in yourself and your career to GET KNOWN! 
I ended Ocktoberfest as a celebrity and not a scholar by hosting the red carpet for the Award Show and Artist Showcase on UBCTV's live remote. We did a pre-show, interviews during the show and then a post-show.  There were so many celebrities in the building (far too many to mention) that I needed a tall glass of cold water when I finished talking. If you want to see who was there you can go to UBCTVNETWORK.com. Thank you, Peggy Dodson, CEO and Founder of UBCTV and thank you, Shawn Chavis, Editor in Chief of Bronze Magazine.  FEMALE  EMPOWERMENT!!!  Gotta love it!  Also big thanks to Ant Jones & Emelyn Stuart. Can't wait til next year!  Hope to see you there next year so you can talk and read about it!  PEACE!
by Ameliaismore
Ocktoberfest Photos by Eyez of the Tigah Photography