Next was a class on life after acting. Career Coach Michael Coritsidis gave unique perspectives and comparisons on the disparity of corporate life verses the creative world.  In corporate it's all fact.  In the creative world it's better if its fiction.  Being able to make those adjustments enables you as an actor to prepare for and interact with your life after acting. He gave examples of proper resume writing and interviewing tips.  Yes there is life after acting if you so choose.  To succeed all you have to do is create a different stage.
Next was one of my favorite workshops for the day.  Miles Maker conducted a workshop entitled "Hollywood Is Where You Are." Miles took us through his journey on how he became a filmmaker.  He let us understand that all of it is a process and you must be willing to forgo the process in order to achieve the readiness you need to master your skill and goal.  He provided an insight on the misunderstanding that Hollywood means the big city in California.  On the contrary, Hollywood is where you create, who you meet, how you utilize those contacts and most importantly how you translate all of that to art and your audience.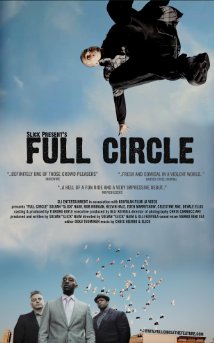 For me the evening ended with probably what I will say is one of the best debut movies from a new writer, actor, director and co- producer to date.  If you get an opportunity to see a film entitled "Full Circle" get your popcorn, chips, soda and whatever else and get ready to be entertained.  Solvan "Slick" Naim is not only a talented music artist (the soundtrack for this movie was professional and poignant) but also an amazing writer.  As an actor one of the biggest challenges you face is the script.  Sometimes it's difficult to bring life to words that are not natural.  Solvan's writing was not only natural but also convincing.   You could feel almost all of the scenes as if they were real.  The DP and the dialogue made you feel as if you were right there in the room and part of the movie. Nothing seemed forced or unnatural. Although the film may be categorized as another "hood flick" there is nothing ordinary about the film, soundtrack or event flow of the story.  The film is so seamless that you constantly have to remind yourself while watching that this is Solvan's first time doing everything; writing, acting, directing and working with his producer to score the film. Remember the name Solvan "Slick" Naim, it may be our first time hearing his name but it won't be the last. Do or Die Bedstuy/ Bushwick Brooklyn represented to the fullest!
I renamed day 4 as " Fabulous Friday!" Of course because it was Friday, the venue was packed. What I liked most was the diversity. There were just as many music people as there were film people. The convergence of minds, ideas and conversations of creativity made you feel there was a second coming of the Black Renaissance. All you could see was exchanging of cards, numbers, ideas and viewpoints on projects. One word (maybe two): refreshing and empowering.  Definitely the goal of the organizers was met this week. 
One of the biggest challenges short films face is having enough time to tell your story.  Although some of the shorts shown on this day had that issue, one film did not and was one of the audience favorites. "A Saturday Night is a Terrible Thing to Waste," produced by Alfonso Johnson, was amusing, refreshing and left you wanting more.  Despite the technical problems the audience waited patiently to see the ending of the film.  Now that speaks volumes. (Continued on page 4)