After the movie there was a panel on distribution and acquisitions.  It was presented by Entertainment Attorney Eldoine Mason.  I asked a lot of folks how was the panel and the general consensus was that it was very informative.  They all informed me that Eldoine provided information that can be applied, not just learned.  That is always useful.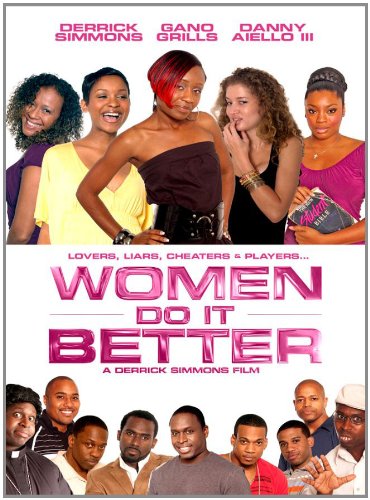 Next was one of my personal favorites. I love comedy and I enjoy director, writer and producer Derrick Simmons' humor. "Women Do it Better" was a progressive and natural follow up to his debut movie "Jump Offs" (that I still watch years later) "Women Do It Better" is a comedic perspective on how women are "players" too.  My favorite character in the film was "Ooops."I don't want to give the film away but if you like and collect "hood flicks" this one is a 'must have." It's a classic!
One of the factors I liked most about the festival is that it was not only dedicated to short and feature films. They also showcased videos and trailers of selected upcoming projects. During that segment there was one project that stood out from the rest. The music video entitled; "New Coons" produced by Lyndon McCray. What made this piece amazing was that it made you question and re-evaluate your definition of "Coon" and if we are still that by our own definition. The MC that wrote the song addressed so many topics and examples of "coonery" that you had to contemplate not only his intent but also his definition based on your own understanding of the word and what it meant to you.If creativity is to provoke thought this video was rated; mission accomplished.
Right after that segment there was a special sponsored screening of a movie entitled "Skin Deep Skin Tight." Originally this piece was a play and then the director Kymbali Craig decided to make it a film. If you can imagine a one man play with graphics, music and amazing acting and verbiage to match; then you can appreciate the intense creativity that was necessary to make this film.  "Skin Deep Skin Tight" takes you on a journey of the evolution of "blackness" within the United States. It not only provoked thought but also conversation (the director's intent) to not only bring awareness but also compassion to a journey that is not only under-rated but also uniquely our own.  A journey that was (and still is)  influenced by many, yet still our own.
Day 2 ended with a showcase of Latin talent from across the Latin regions.  There were artists from Columbia and artists with all different Latin backgrounds coming together to enjoy culture musically.  Mr. Kalvin, Ant Jones and Jerry did a wonderful job expanding the musical horizon of Ocktoberfest to mirror the current musical world as we know it; which is global.
Day 3 was information, information, information that ended with a movie and a DJ Spin off.Erica McLaughlin, COO of Tranquil Water NY, a full service brand management agency, started the day with her class, "Branding Yourself & Your Business." I arrived at the end of the workshop. However, you can always tell if a workshop was good if the audience comes to you at the end of it. With a good workshop, the audience is still asking questions, seeking knowledge and wanting to remain connected to their source of information. This was the case and then some after Erica ended her workshop. Continued success to Tranquil Waters!  Your company is one that is growing daily. (Continued on page 3)